Students come to Berghs to learn how to successfully communicate in the real world and at Berghs, we embed the real world in our teaching technique. Through a unique blend of theory and practice, we offer a winning approach to education – action-based learning.
Our Pedagogy
Action-based learning
The Berghs' teaching framework is based on action-based learning.Students learn from theories and apply these theories to practical briefs. By working on cases for both fictional and real-life clients, students test models and tools and apply their learning to actual industry work. We don't exclude theories and models, but remain pragmatic in how we value them; in other words, how well they work in practice.
Integrated disciplines
Our practical and cross-disciplinary approach facilitates collaboration across different roles and helps develop an overall understanding of just how excellent advertising and design work is created.Our students learn crafts individually, and they learn about processes in groups. With very little silos, they become specialists but have a great understanding for the big picture- designers understand strategy and copywriters comprehend design. This way of learning prepares students for the real world. <
Soft skills
Since we work on so many projects within a course, students spend a great deal of time presenting and giving/receiving feedback. We trained them for that by providing them with a structure for group work and feedback. They become professional in their ways of offering critique, highlighting the positive and taking a constructive approach. This crucial soft skill is extremely valued by modern employers. By providing generous space for self-reflection and active group experiences, students create their own knowledge and skills, interpreting and reflecting on experiences.
A professional approach
All courses at Berghs are delivered by active industry professionals, cutting-edge communicators offering a practical approach and fresh content. There is no permanent teaching staff at Berghs, only communication professionals, who bring students the most up-to-date insights and tools. Course quality is guaranteed by Berghs' faculty, a permanent team of program directors and learning developers who select the best instructors from the industry and provide them with essential pedagogical support.
Our principles
Offer balance between foundation and specialization
Provide fresh and relevant content, with teachers from the industry
Encourage an integrated view on communication
Promote collaboration between individuals
Teach practical skills, action-based learning
Facilitate lifelong learning
Foster creative meeting spaces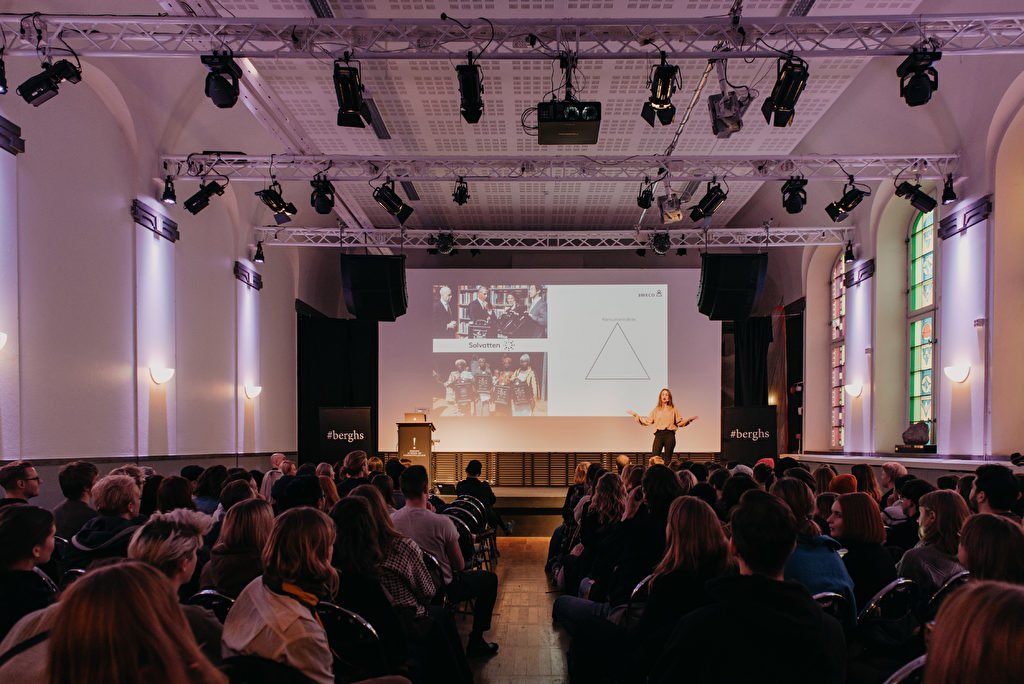 High-Quality Education
Providing high-quality education is our primary goal. We average 4.2 on a scale of 5 in student and customer satisfaction surveys across all our various educational formats. The ability to sustain continuous quality and create a base for innovative communication is measured in competitions such as AKQA's Future Lions. Berghs meets quality criteria from the Swedish National Agency for Higher Vocational Education for our full-time programs, and from SAUF (the Swedish Association of Certified Training and Educational Companies) for professional individual courses. Our finances have remained stable over the years, earning us a strong credit rating.
Advisory Board
The Berghs' Advisory Board is our compass. It highlights the challenges that companies, agencies, and organizations are facing today, and it indicates which skills are lacking or need strengthening. The Advisory Board is also an important forum for Berghs' strategic development.
Inclusion Advisory Board
Diverse perspectives are often missing in today's communication industry, and many people are left feeling misrepresented and unincluded. As a leading player in communication education, Berghs believes in pushing things forwards to encourage change. Not only do we include a varied, diverse perspective in everything we do, we recently created an inclusion advisory board. The Berghs Inclusion Advisory Board is tasked with drawing up concrete measures to inspire real change, broadening networks, and including people from diverse backgrounds, experiences, and viewpoints. We aim at o building a communication industry that represents the widest range of perspectives.