Awards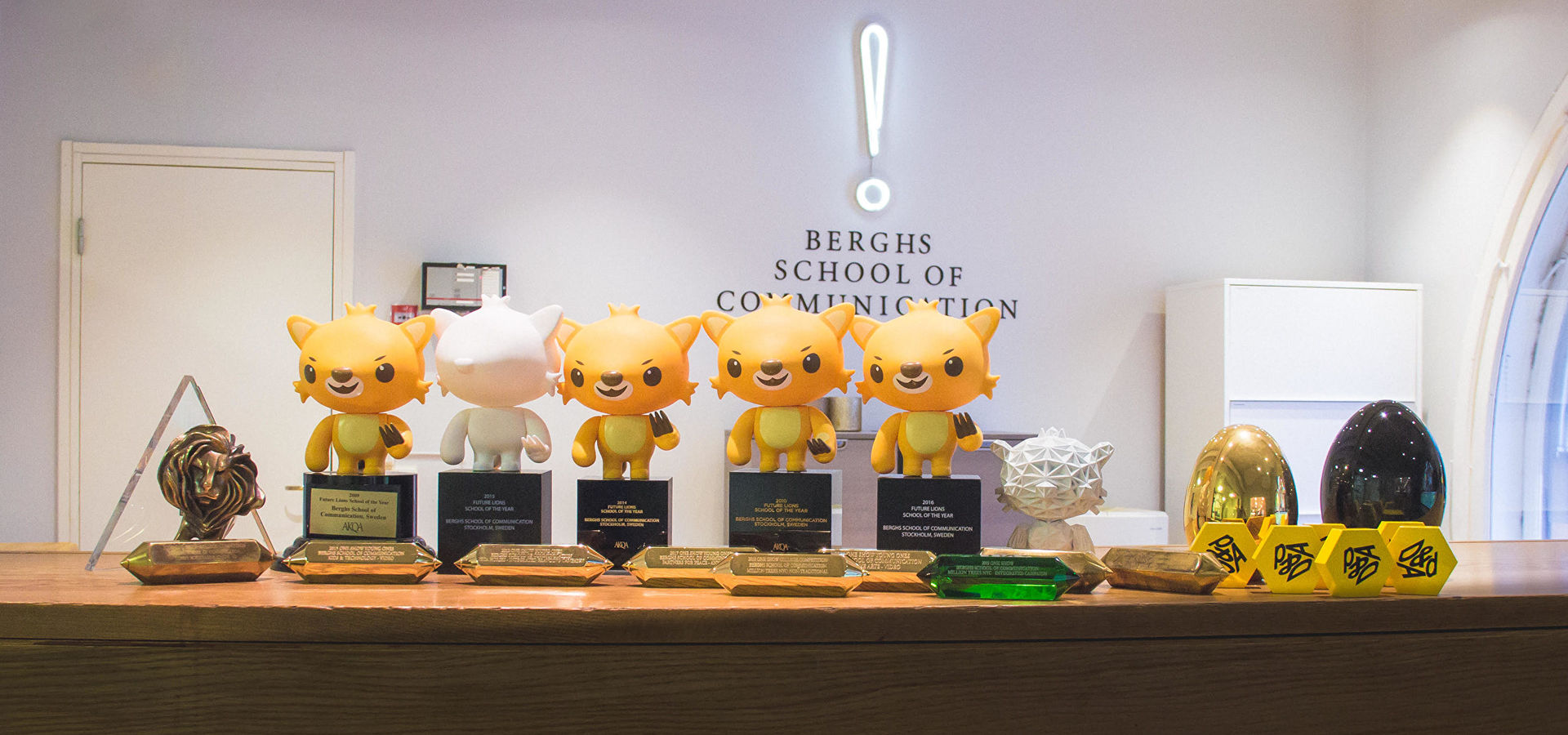 Our students are considered some of the best in the world. Here's a list of what they've accomplished over the past few years. Needless to say, we're proud.
2021
The year begun with two student couples from Berghs winning gold and silver in Young Glory's December Brief 2020 competition. In addition to these successes, three more student couples went to the finals with the same brief. Three student teams won gold, silver and became finalists in Young Glory's January brief. As for Young Glory's February and March brief,  two prices were won by two student teams; one gold in February and a silver in March. In this years D&AD, three student teams won D&AD New Blood Pencils. In Gullkalven, one student team from Berghs won Årets Gullkalv 2021 together with five gold and two silver awards. In The One Shows competition The Young Ones, 38 students from Berghs won three gold, five silver, eight bronze and six merits. In June, it was also announced that a student team from Berghs were one of the winners in the prestigious communication and innovation competition Future Lions. The paragraph will be updated continuously in 2021.
2020
It's been a massive year for Berghs in the 2020 Young Ones. In One Show's competition, Bergh's students took home a total of 20 awards, including 8 pens and 5 cubes. This ranks us as the 3rd best school in the world, and No. 1 in Europe! And we're proud to be home to the No. 1 ranked student in the world according to Young Ones. This all makes 2020 a record year for Bergh's School of Communications. A team of Berghs students won this year's Gullkalven, Norway's largest student competition in communication. Their campaign was also awarded gold in the categories campaign, SoMe and commerce as well as bronze in the outdoor category. In addition, one of the students was awarded "Student of the Year". In this years Summit Awards our students scored bronze, aswell as silver and gold. And a team from Berghs won bronze in this years Clio Awards.
2019
The year kicked off with a Berghs' team winning the January competition at the Young Glory competition. At the Nordic Gulltaggen competition, Berghs' students accounted for no less than three of a total of six nominated prizes in the student category. Four Berghs' students were awarded gold and silver. This year's One Show/Young One's competition in New York was a huge success for Berghs, with students taking home 17 awards, including 11 pencils. This made Berghs the most rewarded school in 2019 in the Young Ones Brief competition. Three of our students won Young Glory and got to pitch their idea at C2 i Montréal. Berghs' students also had 5 cases represented in the top 50 of Future Lions. Great job to everyone involved in all of these competitions!
2018
First out this year was Gulltaggen in Oslo, where students from Berghs won gold, silver, and bronze! At AKQA Future Lions in Cannes, five student teams were shortlisted and contributed to Berghs landing the prestigious School of the Year award for the fifth consecutive year. A student team from Berghs was awarded gold at the Indigo Design Awards and also at the One Show and D&AD New Blood. At the Young Glory competition, one student team won two gold at the September competition, two gold and one silver at the October competition, one silver and one bronze at the November competition, and one gold and one silver at the December competition.
2017
The year started off with awards at Norwegian competition Gulltaggen in Oslo. Berghs'students accounted for three of a total of seven nominated entries and won gold with one of the entries. At the One Show, students participated in the Young Ones, with six out of 35 finalists coming from Berghs. In addition, two entries qualified for the Client Pitch. In total the Young Ones competition led to one Gold Pencil and three Silver Pencils. At D&AD in London, two of our student teams were nominated, and at AKQA Future Lions in Cannes, Berghs won the category School of the Year for the fourth year running.
2016
Students won a Silver Pencil, a Merit Award, and were nominated to Client Pitch at the One Show. At Cannes Lions, our amazing students took home two of the five awards in the student competition AKQA Future Lions, and secured the desirable title School of the Year for the third consecutive year. This was a record! Watch the cases here.
2015
Throughout the year, 10 student teams were named in the top 100 at AKQA Future Lions, and Berghs was awarded School of the Year for the second consecutive year. At D&AD, students won two Gold Pencils and two Wood Pencils. At the Young Ones, the student section of the One Show, four teams were awarded two Gold Pencils, two Bronze Pencils, and the Client Pitch. Watch the cases here.
2014
At the AKQA Future Lions competition in Cannes, a large number of student teams were named in the top 100, with two teams placing in the top five. Berghs won School of the Year, competing against 60 schools from 40 countries. At D&AD, two student teams won awards. At the One Show, one team won a Gold Pencil, while two teams won Silver Pencils and took home the gold in Client Pitch. Another Gold Award came from Gulltaggen. See the cases here.
2013
Students were awarded two Bronze Pencils and one Silver Pencil, as well as several merits at the One Show. At D&AD, three teams were named Best of the Year and were awarded five Yellow Pencils. At AKQA Future Lions in Cannes, four student teams were shortlisted. Berghs'students won multiple awards at several Swedish competitions. See the cases here.
2012
Students won two top placements and a number were shortlisted at AKQA Future Lions in Cannes. The One Show resulted in one Gold Pencil, one Silver Pencil, one Bronze Pencil, four merit awards, and one honorable mention. At D&AD, student teams won two awards in Best of the Year. Students were also awarded at the Clio Awards, Creativity Awards, New York Festivals, Bees Awards, New Creatives, and Gulltaggen. All cases are available here.