Berghs School of Communication Announces New Owner AcadeMedia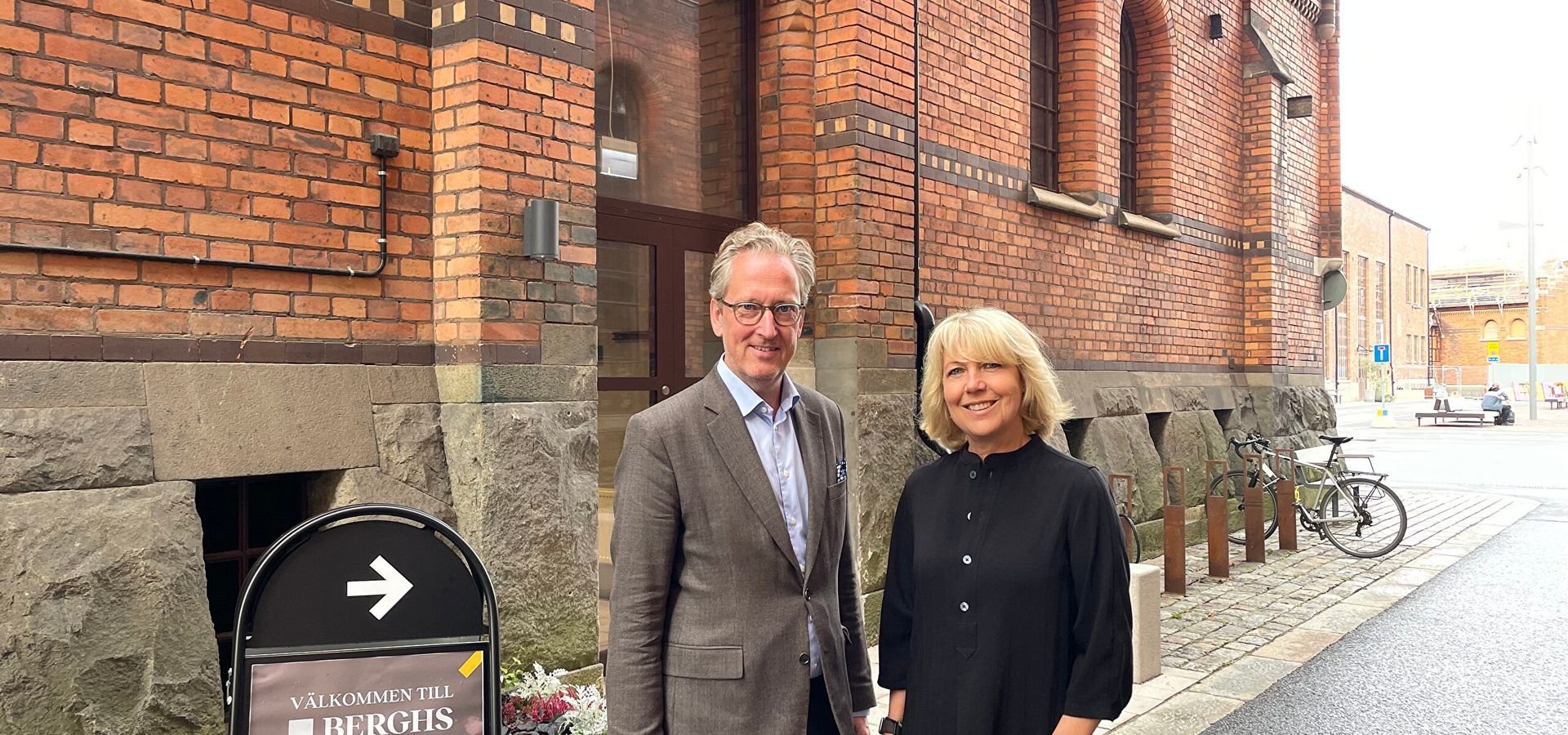 Wed, 4 Oct, 2023, 11:00
Berghs School of Communication will become a part of AcadeMedia's adult education division, taking a significant step forward in its expansion in the private market. Berghs is a globally recognized school known for offering some of the world's best communication education programs.
Camilla Wallander, CEO of Berghs School of Communication, and Christer Hammar, Head of AcadeMedia's adult education divisio
"Berghs is an incredibly well-renowned school that we have respected for a long time. AcadeMedia's vision is to drive the development of future education, and we look forward to working together with everyone at Berghs to continue developing their business both in Sweden and internationally," says Christer Hammar, Head of AcadeMedia's adult education division.
"Being able to communicate well and find creative solutions is becoming increasingly important in the workplace. It also requires increased collaboration, critical thinking, and problem-solving across various professional fields. All of this is at the core of Berghs' educational philosophy," he adds.
"Berghs strengthens AcadeMedia's existing offering in adult education. They work closely with the business community, and many of their teachers are among the best in their profession, in which they also teach. It will be incredibly exciting to work together" says Christer Hammar.
"After 23 years of ownership and fantastic development, we are pleased and proud to hand over the baton to Academedia. We are confident that Berghs, together with its new owner, can continue to evolve further," says Mikael Kaunitz, outgoing chairman of the board and owner representative for Intendia Group.
Berghs will complement the current brands of adult education within AcadeMedia, including two of the world's leading schools in game development, with a strong focus on design: The Game Assembly and Futuregames. With its strong brand and more than 80 years of experience in the field of communication, Berghs strengthens AcadeMedia's position as a leading player in adult education.
Camilla Wallander, CEO of Berghs, adds: "Berghs is a school that is advancing rapidly, and it is important for us to have a stable, future-oriented owner. We believe that AcadeMedia can provide us with the right circumstances to continue making a difference and have better opportunities for development. We have been developing people and brands since 1941 and contribute significantly to societal change."
Mellby Gård, the largest owner in AcadeMedia, is a long-term investor that supports companies with high entrepreneurial spirit and innovation potential. Johan Andersson, CEO of Mellby Gård, comments on the acquisition: "Berghs is an exciting addition to Academedia's adult education division, as they are at the forefront and contribute to highlighting new perspectives and strong possibilities for innovation."
Lifelong learning will play an increasingly important role in society's future, where the need to adapt to changes is evident, and many people will have multiple careers in their lives. "It is gratifying to be able to offer more individuals the opportunity to continue developing their knowledge and innovation capabilities," says Christer Hammar.
For press inquiries and more information, please contact:
Christer Hammar, Head of AcadeMedia's adult education division Phone: 070-377 45 00 Email: christer.hammar@academedia.se
Camilla Wallander, CEO of Berghs School of Communication Phone: 073-747 00 21 Email: camilla.wallander@berghs.se
About AcadeMedia: AcadeMedia is the largest educational company in Northern Europe, with operations in Sweden, Norway, Germany, and the Netherlands. Our size provides security and the conditions to be a long-term and stable education provider contributing to the common societal development. AcadeMedia's adult education offers high-quality education that promotes individual and professional development. Adult education activities are primarily conducted within vocational higher education, adult education, and labor market services. Over 100,000 adult students participate in one of our more than 100 units under our 20 brands across Sweden each year. Learn more about us and all our brands at academedia.se.
About Berghs School of Communication: Berghs is a world-leading progressive school in communication and has been named "School of the Year" seven times at the international Future Lions competition in Cannes and has been awarded top 5 placements in One Show for the past five years. Berghs was founded in 1941 and offers a comprehensive range of programs to educate professionals in the communication industry. Berghs students are highly sought after in the job market, and our methodology, based on integrated workgroups, is unique in the vocational higher education sector. Learn more about Berghs at berghs.se.