Berghs Students Win Grand Prix at Future Lions in Cannes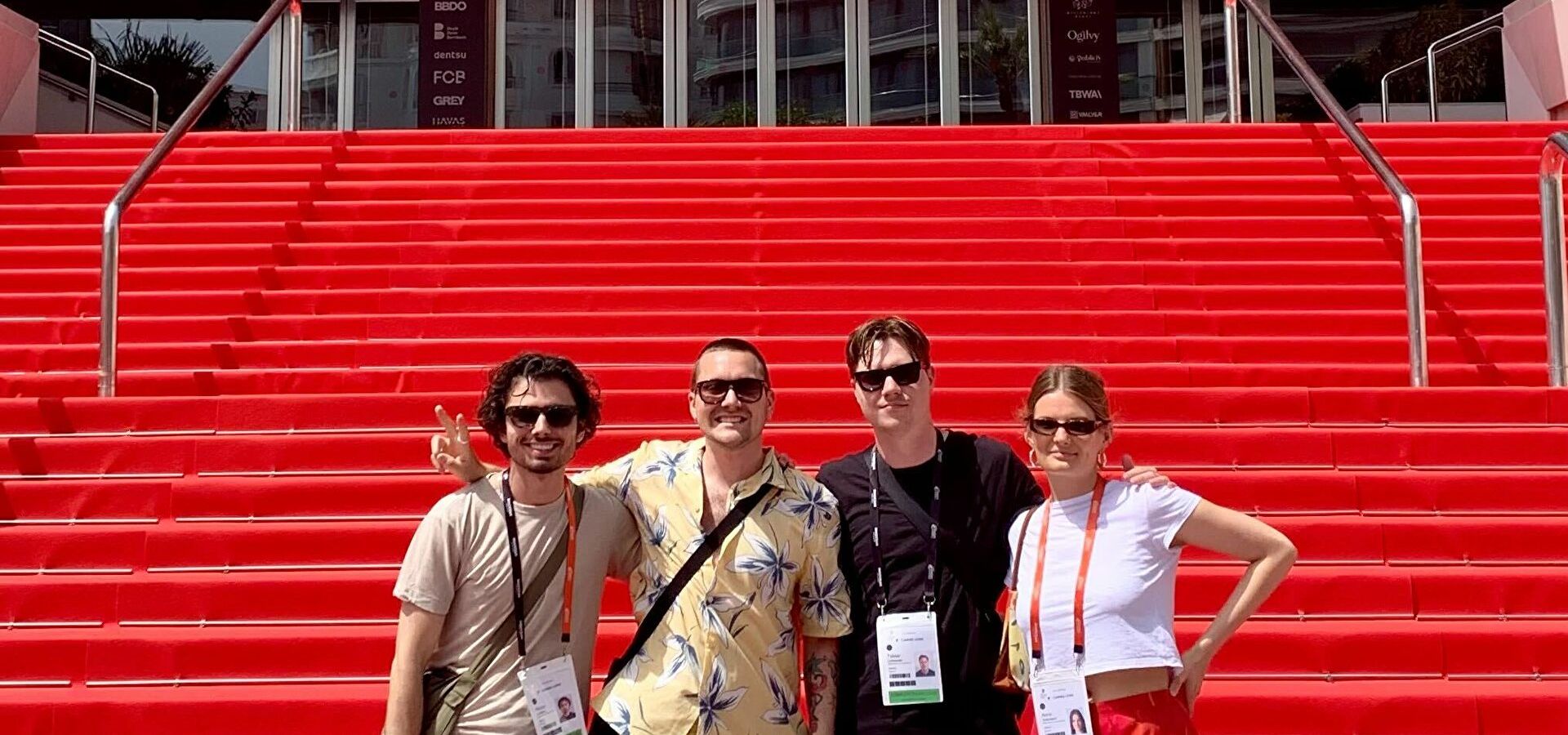 A group of newly graduated students from the Art Direction/Copywriting program at Berghs School of Communication have been awarded the prestigious Grand Prix award at the 2022 Future Lions awards. The winning submission is called Ten Week Tee and the winners will get to make their idea a reality together with Gymshark and AKQA.
Written by Max Maccarone
June 22, 2022
Today the winners of Future Lions – AKQA's annual competition to spotlight and award the next generation of creative talents held during Cannes Lions – were announced. This year, 145 schools from 45 countries participated in the competition. The award ceremony was held at the Cannes Lions International Festival of Creativity where Berghs' newly graduated students Anna Zetterlund, Claes Holm, Fabian Luthander och Nicolas Lindberg were awarded the Grand Prix for their entry called Ten Week Tee.
This year's competition, which was a collaboration between Gymshark and TikTok, invited creatives between 18-25 years old to send in their creative solutions to the brief. Entrants were asked to showcase how people can be empowered to unite the conditioning community and overcome any barriers they face, to create a healthier life for themselves.
The winning entry, Ten Week Tee, is an analog product for a digital world. The solution is clothing printed with clear workout instructions that fade the more the clothes are washed and reused. The result is that people working out for the first time feel confident and continue to build more confidence at the gym as they continue to use the clothing and the instructions fade away over time.
"In a competition where many entries are very tech-based, it feels great to win with an idea that is quite analog. We feel that the jury has seen that our idea highlights something true and that many people can relate to. Apps that can help people work out already exist. There are lots of them. We wanted to create something that doesn't require anything of or can distract the user in any way," says Fabian Luthander, one of the Grand Prix winners.
The students are newly graduated from the 2-year Art Direction/Copywriting program at Berghs School of Communication with Rikard Linder as their Program Director.
"I am very proud of this group's work. Talent is a good thing but it takes hard work to come up with this kind of insightful solution. At Berghs we believe in and encourage our students to think in a timeless manner when it comes to solutions. The most important thing is that there is an actual solution that affects people in a real way. That makes it even more rewarding to see that this project, that is almost entirely analog, wins a competition that focuses on innovation and the future," says Rikard Linder, Program Director of the Art Direction/Copywriting program at Berghs School of Communication.
In the past ten years, Berghs' students have achieved high scores and rankings in the competition. Berghs has also been awarded School of the Year five times in a row.
"This year's client explained that they found it difficult to choose a winner since they had so received many innovative entries. We are very proud that our students perform at a high international standard year after year and it's something we must continue to work hard to keep. Our ambition is to secure a breadth of teachers with different perspectives, shared value-thinking and continue to work on team collaboration skills," says Camilla Wallander, Berghs School of Communciation's CEO.
Check out the winning entry here.