3 clear trends within EdTech, straight from BETT 2018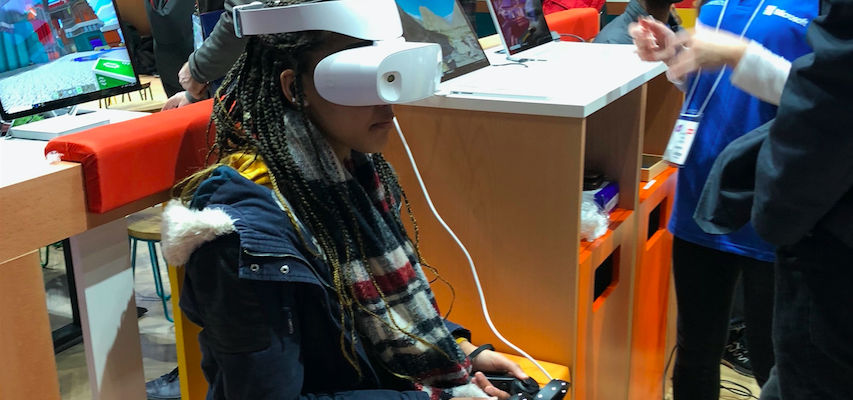 In the end of January, British Educational Training and Technology Show (BETT) took place in London. Berghs Mats Lundquist visited the exhibition, that specialises in EdTech, and came back to Sweden with a bunch of new insights and 3 clear trends. Here is Mats' report.
Written by Berghs School of Communication
February 6, 2018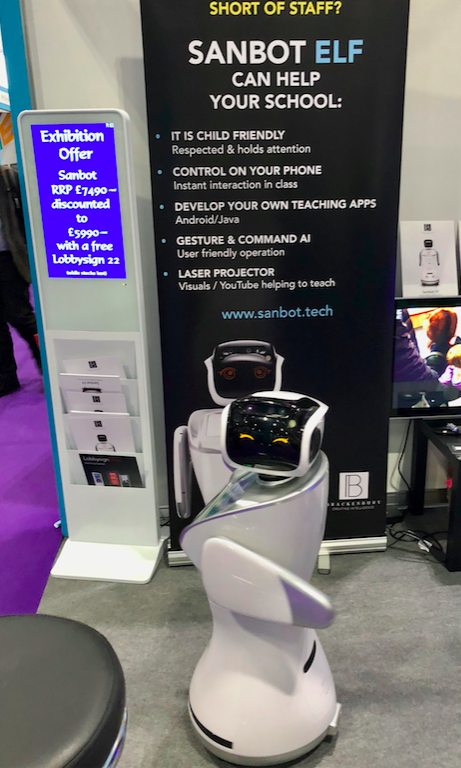 After a total of 44,734 steps at the BETT 2018 I am full of new impressions and ideas about what's available and around the corner concerning technological solutions in the world of education.  The exhibition fair BETT specialises in EdTech, however, I found that the majority of both exhibitions and seminars are more focused on new technology, rather than education. It is easy to focus solely on the potential of the new technology, and therefore forget the real effects it can provide for everyday education that we provide as a school. So, what about a robot as a student assistant?
Three clear trends could be discerned
Immersive Learning
Immersive Learning is the use of a combination of different technology and media in teaching, such as virtual reality or augmented reality. Immersive Learning is not a new concept, but is evolving as technology develops and becomes more affordable. There was a wide spectrum of technology on display from VR Headsets, 3D image production software to cameras for shooting 360 degrees; all to produce VR technology for teaching. Using VR enables you to, for example, walk inside a body to see how the skeleton is constructed, or visualize environments that are too dangerous to enter.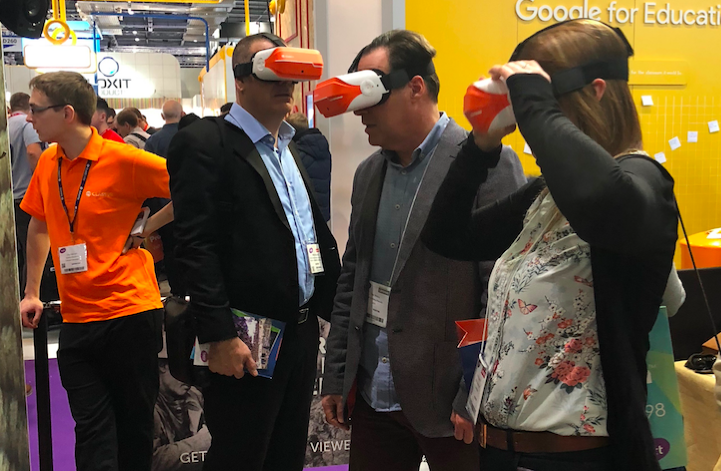 Video is all around us of course, but one concern that was up for discussion was that teachers don't have the time to neither produce or find useful video content. The overload of video can be significant, leading teachers to look for specialized collections for example Boclips, Ted Talks or Khan. It's easy to skim text materials fast, but you need to watch a whole video to decide if it is worth using in class
The Moscow City Department of Education, showed the possibility of 3D scanning by first doing a full body scan and then creating a 3D movie. The film below is created by a 3D scan and then animated into the final film.
Data-driven institutions, Adaptive Learning and Artificial Intelligence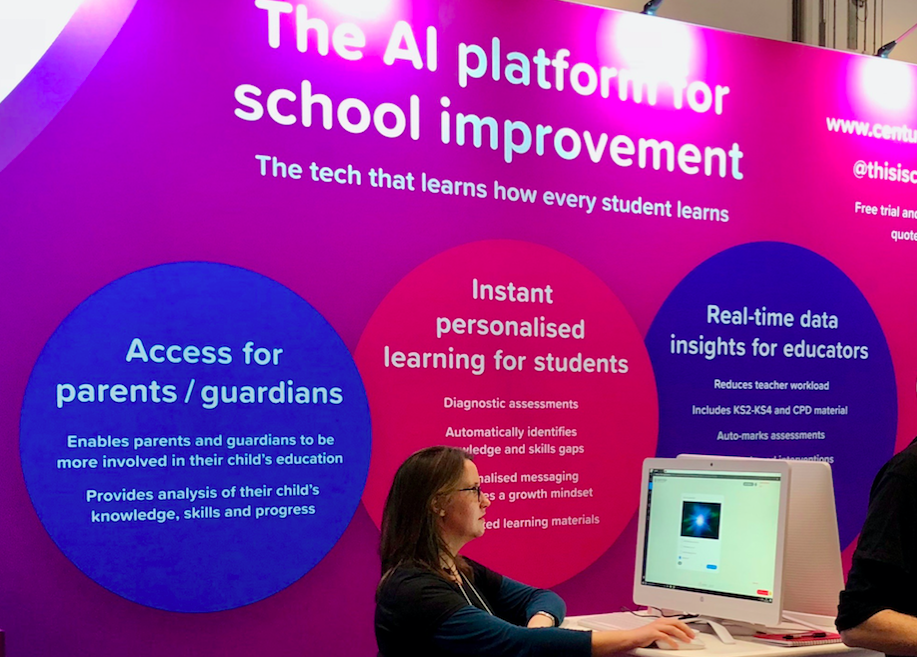 The rapid increase of data at schools poses both challenges and opportunities. Now it is possible not only to analyze a student's actual knowledge when using AI, it is also possible to analyze that student's ability to learn and to adjust the tempo. AI systems can be integrated with traditional LMS system (eng. Learning Management System) to analyze how long it takes to answer a question, how often the student hesitates, how often they need to correct a text which, when summarized , can provide a deeper analysis of the student.
While on one hand we have increased technological advancements, we also have the soon to be implemented GDPR, the European Union's General Data Protection Regulation. It is vital to strengthen personal data protection, and the discussion about the use and storage of personal data needs to continue.
Another trend is about the Smart Campus or Connected Schools. A Smart Campus makes use of sensors that can measure the number of individuals in a classroom or on a floor and automatically adjust ventilation, heating and Internet capabilities.
Improved campus can now be more sustainable, smarter, inform data-driven business decisions, and get lower operational costs.
Touch Screens
Smart Boards and Interactive Whiteboards have been around for some time, but falling prices and higher quality displays, now open up their use in further applications. There were more than 15 vendors with touch screens and among them Google's Jamboard that was the most impressive, even though it was not the largest at 55". The Jamboard was incredibly comfortable to use and smart, integrated with a G-suite, where a variety of materials can be created, and the possibility of interaction between other Jambords, computers, phones, or tablets is possible.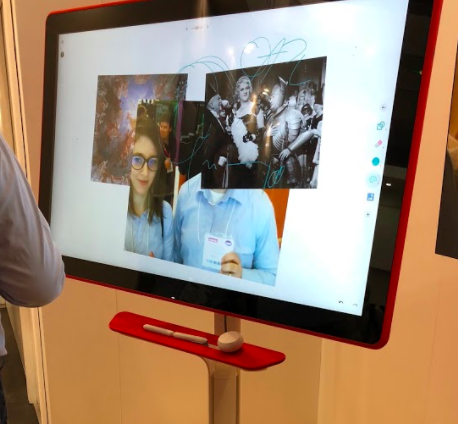 What stood out the most was the amount and wide variation of Touch Screens, Touch Tables with Touchscreens and Interactive floors (!) whose target audience is children aged 5-7 years.
What is also interesting are the enormous efforts being made to create learning opportunities and conditions for teaching young children how to code. Companies like Lego Education are investing heavily in creating training materials aimed at the K12 market. Maker spaces, robotics and even drones are now being used in education.
A tiny programmable computer, Micro:bit, is used to teach children to code in JavaScript or Python. Microsoft, who was BETT's largest exhibitor, has created a code editor that works with Micro:bit. As Microsoft expresses it "We wants to nurture the next generation of tech superstars".
Every new innovative idea for teaching requires that you consider the learning environment, data, pedagogy, and academic disciplines. Technology is advancing at a tremendous rate, and it is easy to be fascinated and impressed. You can provide a high tech educational facility with all the new technology, but do not forget it is still the interaction between students and teachers that is the most important to facilitate the learning experience.
Links:
Google's Jamboard: https://gsuite.google.com/products/jamboard/
Lego Education: https://education.lego.com/en-us/coding
Micro:Bit: http://microbit.org/
Parrot Education: https://edu.parrot.com/
Touch Tables: http://avavision.co.kr/eng/
SANBOT: http://en.sanbot.com/product/sanbot-elf/design
Video: http://boclips.com/