From Toronto to Stockholm for Advanced Advertising studies at world-leading communication school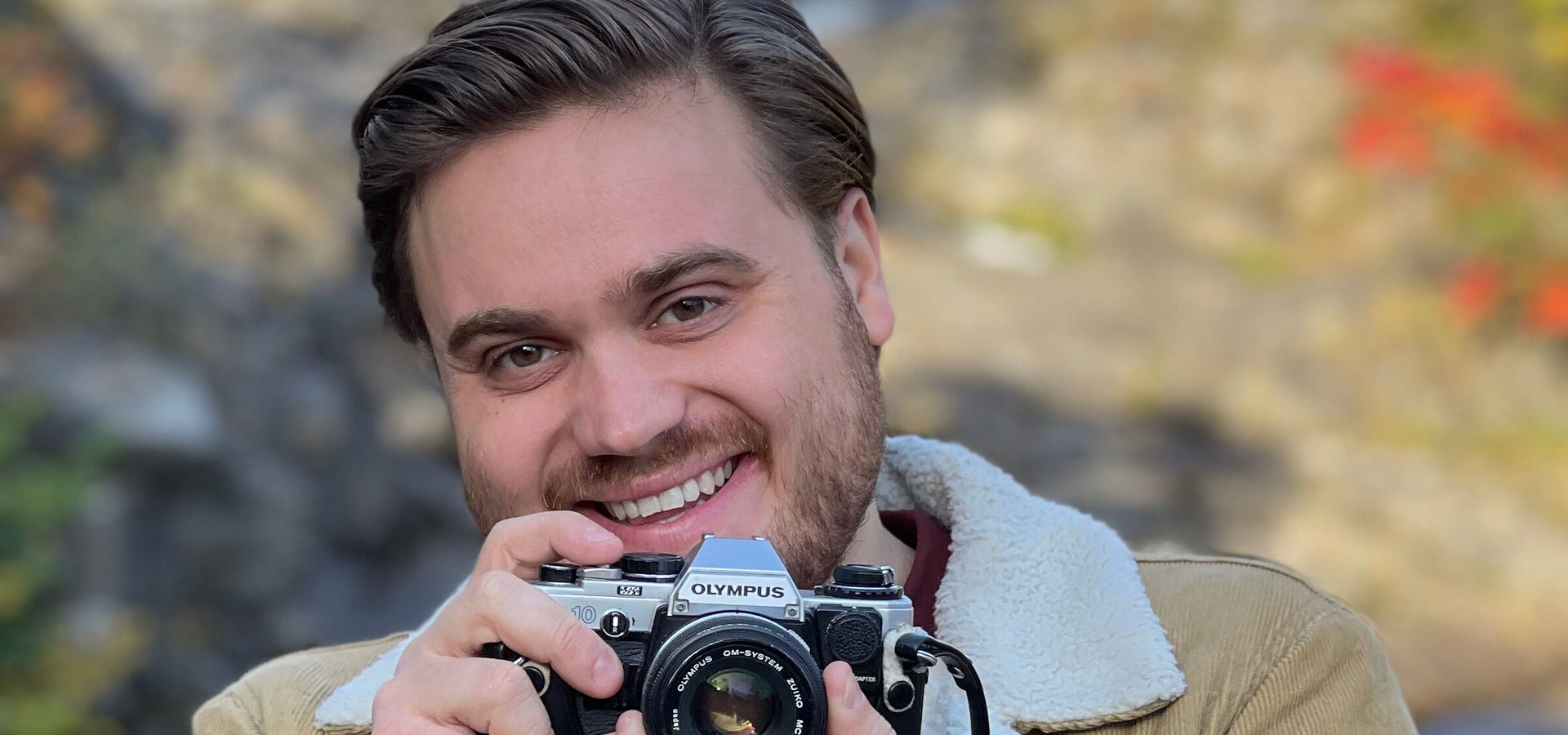 When Dimitri Kanaris moved from Canada to Norway, he quickly realised getting established in a new culture would take something special. He chose Berghs' Advanced Advertising to grow his network and pivot his career more creatively. We've spoke with Dimitri about Berghs, the best brunch in Stockholm, and the power of new perspectives. Enjoy!
Written by Respina Gholinia
November 2, 2021
Hi Dimitri! Tell us about yourself.
I am a Canadian expat living in Oslo. As a creative strategist and entrepreneur, I have worked in marketing teams both in agency and client side, as well as started my own freelance collective providing resources and studio space for creatives. I grew up in Toronto, studied in Vancouver, and in an effort to create my own silver lining during the pandemic, I made my way to Scandinavia with my Norwegian partner.

How did you end up at Berghs?
Starting a career can be a challenging journey even before factoring in moving to a new part of the world. In my case, I was leaving behind the network I established for myself in Canada and had very few connections in Scandinavia. Berghs had come up in conversation many times when talking about advertising in Scandinavia and presented a great opportunity for me grow my network and pivot my career into a more creative direction.
Why Advanced Advertising within Brand Strategy?
Coming from an entrepreneurial background, strategy was a field that I felt I already had experience in without the label. Strategy has consistently served as my connection to creative work without a designer's skillset. I chose Advanced Strategy because it allowed me to expand my understanding of the role strategy plays in translating the business objectives of a brand or a certain campaign into a brief that ensures the creative team can create work that connects with its audience on a human level. Throughout the program, I had the opportunity to develop my own process through the many briefs we worked on in various industries with vastly different goals; learning how to adapt and iterate my briefing style to set up the creative team for success.
How was life in Stockholm?
Stockholm is an amazing city bursting with inspiration and creativity. Every neighbourhood is unique, so I really enjoyed exploring the city by bike to take in as much as possible. Stockholm has some gorgeous architecture, fantastic parks, and some great spots to hang out with new friends. Be sure to check out Södermalm, get brunch at The Greasy Spoon, beer and pizza from Omnipollos Hat, and play some games at Boulebar. I also had the opportunity to travel with a group of Berghs students up to Lapland to see the Northern lights in Abisko. That was definitely a defining experience of my time in Sweden.
What were your takeaways from your time at Berghs?
Diverse perspectives win. The more twists and turns on a path to a career in advertising will only make the work more interesting. Non-traditional backgrounds lend themselves to more out-of-the-box, creative thinking that bring new ideas and perspectives to the table that may not have been considered otherwise.
You get out exactly what you put in. Creative industries offer a lot of opportunities to work on exciting projects and are made more effective when injected with unique experiences, which means no one benefits from holding anything back.
The positive impact of advertising. Taking a triple bottom line approach to advertising means that we have the power to leverage the influence brands have in driving the conversation forward in topics such as sustainability, diversity, and inclusion.
What's your best advice for someone who's thinking about studying abroad?
Have an open mind, be naturally curious, and get ready for adventure. Studying abroad means meeting people from all over the world with different perspectives and cultures. Embracing that while creating new friend groups and work teams means showing an active interest in learning about them and how their unique views can bring that extra bit of magic to your social experiences and creative work throughout the course. This also means that it's not a time to be shy about what it is that makes you unique. I have personally never felt more Canadian, nor have I ever been more proud to represent my world view than being surrounded by such a diverse group of people.

Any favorite pick or guilty pleasure you would like to share?
Max Burgers was totally foreign to me since it only exists in Scandinavian countries but man that Halloumi burger got me through thick and thin, late night study sessions and after long evenings out.

What's your future plans?
After my time in Stockholm at Berghs, I moved back to Oslo and have been applying to jobs in mostly client-side roles, allowing me to focus on a brand that I see a lot of potential in and that can help me develop my career as I contribute to its overall growth. I have some great leads and opportunities with brands headquartered here in Norway and hope to be able to make an announcement soon!
Check out Dimitri's work here: https://notsodim.com/
++
Hey you! Are you interested in studying Advanced Advertising (within Art Direction, Copywriting or Brand Strategy) or Advanced Design (within Communication Design or Motion Design)? Then we have some good news for you. The registration for our Advanced courses are open until November 18. Read more and register through the links above.
We hope to see you here at Berghs School of Communication in Stockholm next Spring!