Advanced Design
This intense 15-week course is laser-focused on getting you the portfolio that you need to get where you want to go. If you're a future Communication Designer or Motion Designer, it's the ultimate way to get you ready for the real world. You'll work collaboratively to develop innovative works - both real and fictive - that feed directly into your portfolio.
Program Information
Location:
15 weeks full-time on site, in Stockholm
Register
It's perfect for international students with previous studies or experience in communications, advertising, or design – who want to work professionally in English.
Berghs Advanced — Design offers two possible tracks: Communication Design and Motion Design. And it consists of classes, coaching sessions, individual and group work, and more than fifteen briefs to furnish your portfolio.
Check out some examples of the work and portfolios produced during Berghs Advanced.
Orientation (Week 1)
Advanced starts with an introduction to Berghs' unique action-based learning approach to creative problem-solving. You also learn practical tools for collaboration and develop productive ways to offer feedback and critique.
Portfolio Coaching (Week 2—15)
Developing your portfolio is the most significant part of Berghs Advanced. To support it, we run weekly coaching sessions and tasks to help build a portfolio that is perfect for you. It covers everything from finishing, adjusting, and curating your work to your personal approach to storytelling, social media, personal branding, and getting your work in front of the right people for you. You'll also get friendly and actionable portfolio feedback from a wide range of people.
Chapter 1: Problem, Insight, Solution (Week 2—6)
Over five weeks, you work in groups on a large number of briefs and learn about problem framing, insight generation, message development, and creative execution. At the end of the module, you master the process, produce and present better ideas faster and more consistently. You also learn to rapidly iterate your work while becoming better at giving and receiving feedback and how to pitch ideas powerfully. This module consists of more than eight briefs designed to give you confidence and your portfolio momentum.
Chapter 2: Deep Design Expertise (Week 7—12)
The next six weeks are specific to your professional focus. This is where you dive into the particular crafts, refine skills, discover tools and practice within either Communication Design or Motion Design. Your portfolio must reflect considerable professional abilities, and this is where you get to deep dive into your domain. This module is heavier on individual assignments and also offers a deeper understanding of your specific professional practice.
Chapter 3: Future Vision (Week 13—15)
It all comes together in the final weeks to create something unique. First, we challenge teams with a single brief to develop a strategic platform and creative solution that positively impacts the user, the business, and society. Then, using your newly-refined skills to collaborate across disciplines, you'll create a powerful case film, which functions as a capstone project and a hero portfolio piece. This module pushes you outside the traditional design brief's usual constraints to create something truly remarkable, reflects your values, and makes the future more sustainable.
Network and industry connections
To best prepare you for the professional world, you'll also meet guest speakers and coaches and participate in several industry visits. This helps to grow your network and understand different roles and perspectives in the design industry.
Berghs Advanced Scholarship
For students on the (communication) road less travelled. Read more here.
Sign up for newsletter
Application and Admission Requirements
Do I need any prior knowledge?
This course is for postgraduate students or people with industry experience within creative disciplines to possess good analytical/design/writing skills. We expect Communication Designers to be fluent with design software and Motion Designers to have a good understanding of motion software.
English level: CEFR B2 or higher, see www.tracktest.eu. Because your English will be assessed during your interview, we don't require a language certificate.
Include
Please submit your application via this page. Include your CV and a personal letter explaining your related education, experience, and motivation to be a part of Berghs Advanced.
You also need to provide relevant samples or links to your work related to the track (Communication Design or Motion Design) you wish to study.
You will be invited to a video conference interview to assess your English level and judge your suitability for Berghs Advanced.
After your interview, you will be asked to complete a short task to assess how you think and work creatively. Your application documents, interview, and task will be weighed equally when evaluating your application.
What is the program fee?
Fee incl. VAT
59 375 SEK
Local VAT may apply, read more . The currency converter offers an estimate. Final amounts may differ.
Fee excl. VAT
47 500 SEK
Program Information
Location:
15 weeks full-time on site, in Stockholm
Register
Communication Design
The Communication Design course will give you the most relevant skills towards a career as a (visual) creative. The course is built upon lectures, assignments, and workshops. You´ll learn different aspects and methods of the creative process such as ideation and design thinking. You´ll also train with a collaborative mindset, which is an important part of your future career.
Motion Design
The Motion Design course teaches you the fundamentals in motion design/motion graphics, storytelling, and video with the aim to develop skills within audiovisual communication as a language. This track consists of lectures and workshops in After Effects and Cinema 4D. The later part of the course is built upon an assignment where you´ll practice and develop your skills further.
Certificates
Advanced Design Certificate – Communication Design
Advanced Design Certificate – Motion Design
Integrated Disciplines
Berghs School of Communication believes in education that prepares students for work life. We facilitate subject depth and breadth by encouraging you to collaborate across courses and learn about other roles and subjects. Things get more interesting when you look at them from a different perspective. And creative work improves. For this reason, the Advanced Design Course shares many classes with the Advanced Advertising Course. We also encourage students to work informally with others on creative competition entries.
Course Curriculum
Download a PDF with the full program specifications and learn more about the subjects, course level, and entry requirements.
Coronavirus contingencies
Berghs does what it takes to deliver all courses in a safe, engaging, and inspiring way. We're also confident that the measures we've developed mean we can continue to run everything in-person, on-site, in Stockholm, in 2023.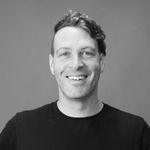 Questions?
Book an individual online session with Adam Horne to ask any questions you have about the Advanced Design course.
Book here