Digital Trends from Gulltaggen 2018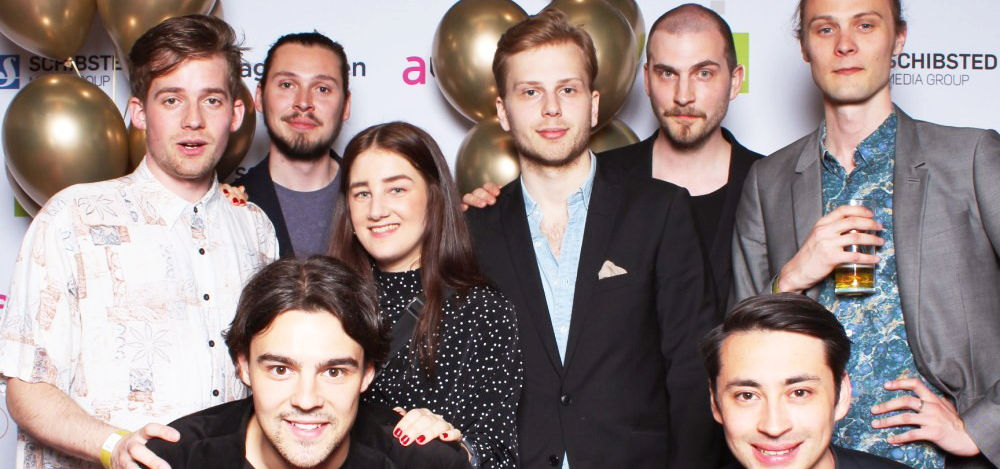 Eight students from Berghs went to Gulltaggen, one of the biggest award shows in Scandinavia, and brought back some trends and insights.
Written by Berghs School of Communication
May 22, 2018
One of the Nordics biggest award shows, Gulltaggen began in 1998. The Gulltaggen award is for digital creativity, innovation, and marketing communication using all that. The 2018 Gulltaggen award was the 20th show that has been held, this year's show was held at Folketeatern in Oslo. In the student category, Berghs had 5 out 7 nominations and received gold, silver, and bronze before the night had come to an end.
Before the award show started several very interesting guests entered the stage and talked about digital trends. And you could see that many of the winning entries followed the trends. We gathered some of the biggest trends in digital communication and innovation.
Insightful data
Using data isn't anything new, it has been many great cases over the few last years that have used data in a good and inspiring way. But data is just information, and even though it's a great tool it has to be used in a relevant way to make it interesting. The key is to connect the data to an insight about human behaviors, to solve an actual problem. If you do that, you'll have great possibilities to create a successful campaign, which the winning entry in the data category shows.
Finn – Godt Brukt År av Morgenstern
UX is becoming more important
It's getting more important to map out the user experience, especially if you're looking at the winning cases at Gulltaggen 2018. In order to make it in a successful way, you need deeper insights and understanding about your target group. The solution has to be well grounded regarding the preferences for the target group. An excellent example is the winner case in the category Product.
reMarkable – The Paper Tablet
Go beyond the horizon with digital solutions
Sometimes you don't know if an idea is possible to make, because no one has ever made it before. It's easy to feel limited because of that: "how would we even do that?". We all know it's easy to toss those ideas that break new ground in the bin, so it's admirable when an agency dares to do something totally new. The most awarded case in Gulltaggen 2018 is a good example of people that have stepped outside the famous box.
Audi Sandbox
Truth over speed
One of the guests on stage was Gard Steiro, publisher for VG, one of Norway's biggest newspapers. He talked about news in today's society in times of fake news. Gard meant that the most important thing for news outlets today is trust, you don't have to be that one that breaks the news, you need to be the one that tells the truth. Because of the digital media climate, we have today trust is the biggest challenge for all news outlets of today. If you can keep your trust you're able to build longer relationships, and that's the key for media of today.
More human-like AI
There's a lot to say about AI, especially if you ask 14-year old Tanmay Bakshi, a guy that made his first iOS app at the age of nine. Three years later he became the youngest ever IBM Watson programmer in the world. This guy knows his AI and held an exclusive presentation before the Gulltaggen awards about what he believes will happen in the future, he meant that the AI should be looked at as a help more than a replacement. By humans, for humans. There are studies to make AI more human-like, so it's much more than just several advanced mathematical formulas. What they are trying to do is to get AI's to get to conclusions and to understand different contexts. Machine learning is about to get computers to learn something from data, without programming them to learn that specific thing. It's possible for them to learn behavior patterns to help us in our everyday lives.
Conclusion
Gulltaggen awards do live up their reputation to award digital creativity and innovations that break new ground in the constant shifting media climate we live in today. Generally, a lot of product development and new digital education tools were awarded this year. Another insight from Gulltaggen this year was that Berghs is a leader when it comes to uniting innovation and communication. With that in mind, we believe that Gulltaggen is a competition where Berghs students will do good even in the future thanks to our knowledge of innovation and communication.
Thanks,
Adam, Victor, Jack, Hanna, Hugo, Simon, Gustaf & Svante.