Building Sustainable Businesses
Pragmatic positive change
Meeting consumer demand
Action plan for sustainability
This intensive 3-day course gives you a foundation of the tools, skills and knowledge to reframe business as a vector for positive change. It helps you look into how your business can make an impact and it offers you practical tools to prepare a plan of action. No greenwashing, the course aims at setting you up for actual sustainability.
12-16 October
Last application date is 27 August
Register
Sustainability has gone from being adjacent to a brand to now becoming core in everything the businesses do. People don't want to know what you will do. They want to know what you've done. And how a more sustainable approach is being taken in all areas.
This course helps you get up to speed in three areas. We explore what's really motivating the sustainability movement. We look at the human factors and behaviour – both within business and consumers – and how habits can change. And finally, we explore ways to put knowledge into action and work towards sustainability goals beyond just marketing opportunities. 
Day 1:
Morning: Understanding what sustainability and change mean to you
Afternoon: Champions and dependencies of positive change
Day 2:
Morning: Action plans and approaches to change
Afternoon: Creating board support for sustainability
Day 3:
Morning: Case study feedback and presentation advice
Afternoon: Group presentations, feedback, and key learnings
How does it work?
This course is delivered IRL at Berghs School of Communication and is facilitated by industry professionals. It consists of 3 intense days of inspiration, tools, practical work, and networking opportunities. Coffee and snacks are included.
We keep classes small and dynamic. Be ready to roll up your sleeves and learn by doing. We take a pragmatic and practical approach to Sustainable Business. You'll make new friends and connections with people as eager to develop as you are. Berghs issues a course certificate upon completion.
Who is this course for?
This is aimed at a wide range of people who are either personally or professionally motivated to make the world a more sustainable place. It's perfect for entrepreneurs who want to start taking a new sustainable approach, and for communicators who want to nudge their organizations towards a real plan for sustainability. Tools presented in the course can be applied to businesses big and small, old and new.
Course Directors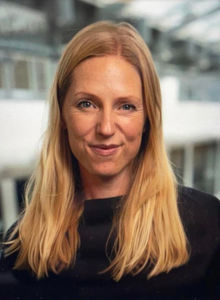 Anja Sadock
She is the Head of Marketing at TrusTrace, an impact-tech scaleup aiming to fundamentally change the way fashion is produced and consumed. With close to two decades in international marketing and sales roles, the majority within Procter & Gamble, Anja has extensive experience in building brands and driving global expansion and business growth in areas such as FMCG, electronics, health, hospitality and SaaS.
Sign up for newsletter
Application and Admission Requirements
Course fee
Fee incl. VAT
29 375 SEK
Fee excl. VAT
23 500 SEK
Local VAT may apply, read more . The currency converter offers an estimate. Final amounts may differ.
12-16 October
Last application date is 27 August
Register
FAQ:
You'll find answers to the most frequently asked questions here
Course Dates
Thursday, October 12, Friday, October 13, and Monday, October 16
Time: 09.00-16.00 CET
What do you get after the course?
Sustainable Business Toolkit

How to drive positive change

 and create consensus around it

Action plan for sustainability
Practical case work and project feedback
---