At Berghs, the world is our classroom, creativity our guide.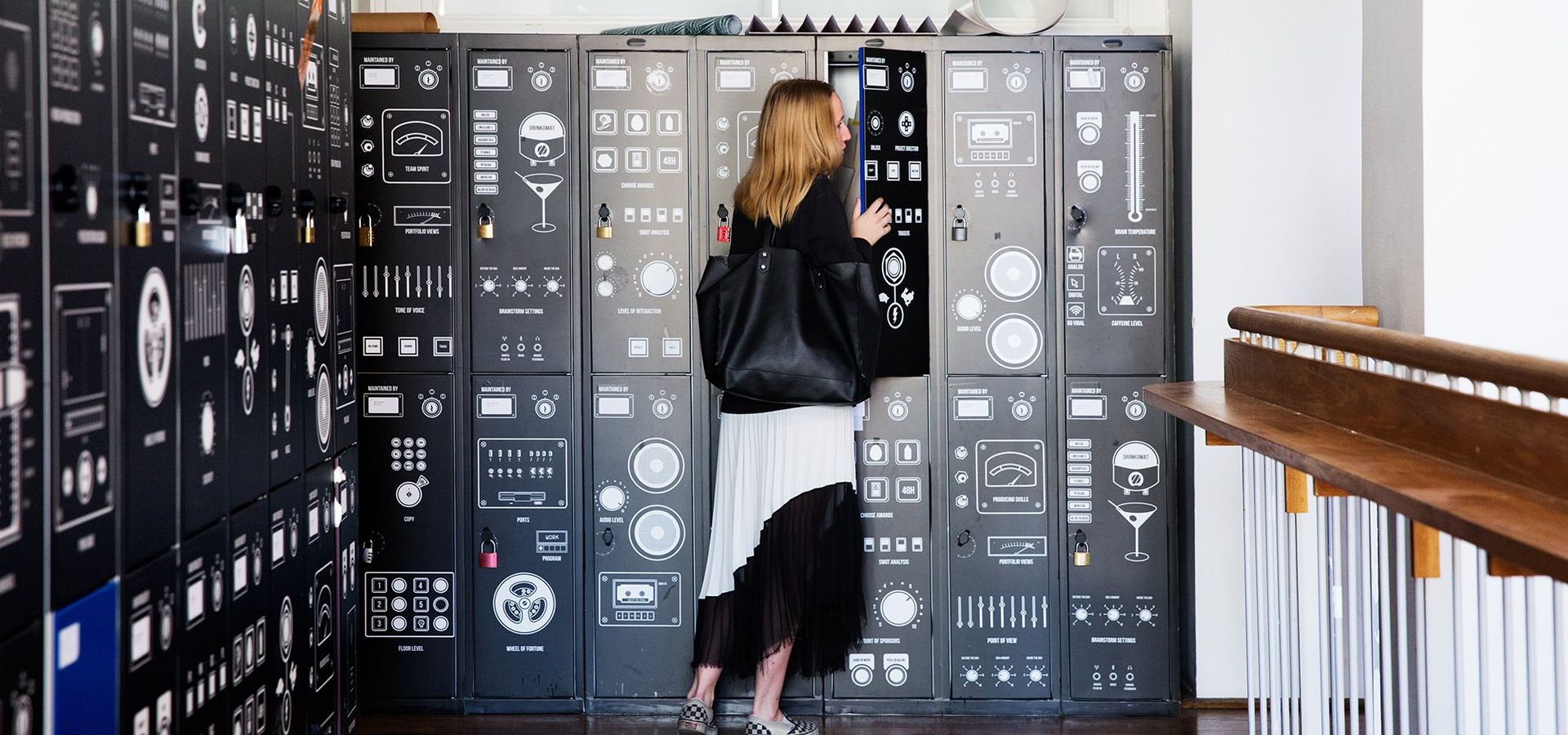 To crack the code on what sets Berghs apart from the competition and why the school continues combing home awards, we asked a few insiders to give us their take.
Written by Berghs School of Communication
November 28, 2022
Join Adam Horne, Creative Director of Berghs Studio, Joakim Thulin, Head of Strategic Insight, Marco Ortolani, Director of International Business, and Patrik Hambraeus, Learning Developer, for an in-depth look at what sets Berghs apart from the competition.
How would you describe Berghs' approach to teaching?
Adam: It's a balance between being deeply pragmatic and deeply engaged with what the world needs now and in the immediate future, and the larger machinations that affect communication – namely cultural context and human psychology.
Joakim: With so many professionals and experts in their fields – more than 500 individuals over a given year coming to Berghs to teach – we need a very strong method and way of thinking about learning to be able to deliver quality in every learning session. Our teachers are industry professionals and we add as much integration between different disciplines as possible.
Marco: Being a professional school of communication, Berghs is quite low on books and heavy on practical exercise and projects. Students learn the latest models, coming straight from the industry – not academia – and they apply them to cases. Over and over again. A typical course at Berghs includes fresh tools, fictive or real cases to work on, individual and group work, project presentation, review, and feedback. The students learn about the subject, get the latest professional tools, practice on relevant cases, and develop soft skills as they progress. This is how we transform knowledge into competences.
Patrik: First comes the hands-on problem, then comes the up-to-date knowledge, often taught by professionals in the industry. And finally comes the discourse, a constant ongoing discussion between teachers and students and most importantly, self-reflection. We call it the Berghs Bubble, where students are in constant forward movement.
What is action-based learning?
Adam: Lots of things. It's learning by doing. And it's based on the understanding that nothing is right the first time. That pragmatic test-and-learn is a good pathway to a great result. It's a way to get both sides of the brain working cohesively and an inviting way to learn. It's also good fun.
Joakim: It's all about applying your previous skills with the things you are learning in class to solve problems – in our case, often a brief. That's another great aspect of having teachers that are industry professionals – they have real cases for our students to work on, and they can get feedback from the potential user of the solution, not only a textbook answer. We don't wait for our students to start their portfolios after graduation. They start adding ideas from week one.
Marco: The standard answer: You hear, you forget. You do, you learn. No course at Berghs ends with just a theory – you are always asked to apply it and make it yours. Practical work makes the whole difference. And you are welcome to fail, disagree, take your own direction, as long as you act on content and learn through practice. A very open, enriching, and professionalizing way of learning.

Another way of describing it. I tell my students it's like playing an instrument. You need to know the theory first, you need to be able to read music, but that doesn't make you any good. Practice does. When you start playing an instrument you focus on notes, and scales, you learn how to move your fingers. Through practice, you develop your technique, but you are still not a good player. It's only when your body knows it that you can really focus on music. You can make any music – you can switch from rock to jazz and soul, and you can even switch instrument. In the same way, you can work on one brief in the morning and a completely different one in the afternoon. You can be the copy in one project, and more of a project manager in another one. You understand design principles and master technology. You have a register and can make anything sound pretty good. If you are talented, you can even create your own music.
Patrik: Learning is more effective when theory meets practice. In the case of action-based learning, there's a short distance between learning about a topic and trying it out. We often base all courses on real client challenges – in our professional courses, participants bring in real cases. We tailor lectures around case-solving, maximizing learning for students, teachers, and clients. A very important step in action-based learning is failing often and reflecting on how to learn and improve.
How does the Berghs method differ from that taught at other communication schools?
Adam: Berghs is a pretty accurate reflection of its context. As an Australian, I really notice just how Swedish it is – in a good way! It's a wonderful advantage in lots of ways. It's less hierarchical. It's more open to questioning itself – by both staff and students. It's also practical. It's not about looking smart, it's about being smart. And it's full of people with a real social conscience. And by not being a research school saves a whole lot of academic distraction.
Joakim: The combination of access to teachers with excellent creativity and communication skills, having a true potential to learn across disciplines, sets a new standard for education in our industry. The effect is that we are always aware of what's new and improved out there, and what trends and insights are going to be important for our students to bring with them into their work. Add to that the difficult but rewarding aspect of getting along with, and solving problems with, people that have different skill sets than yours, and probably another set of words to define the work.
Marco: We offer a balance of foundation and edge, but we do not teach "history of…". We are in the present and future of this industry. We teach and learn in a very practical and collaborative way – content is always fresh. You learn across silos, we integrate disciplines, and there is no right or wrong here, but a constant conversation around communication models and practices that helps students find their own way. All this inspires and trains great communicators, regardless of discipline.
Patrik: We do not have full-time teachers but rather professional creatives, strategists, and designers coming with their super-relevant knowledge of the communication industry. We take a cross-disciplinary approach, with students constantly collaborating on large projects, learning from each other. We believe that team skills are essential to succeed in today's working world.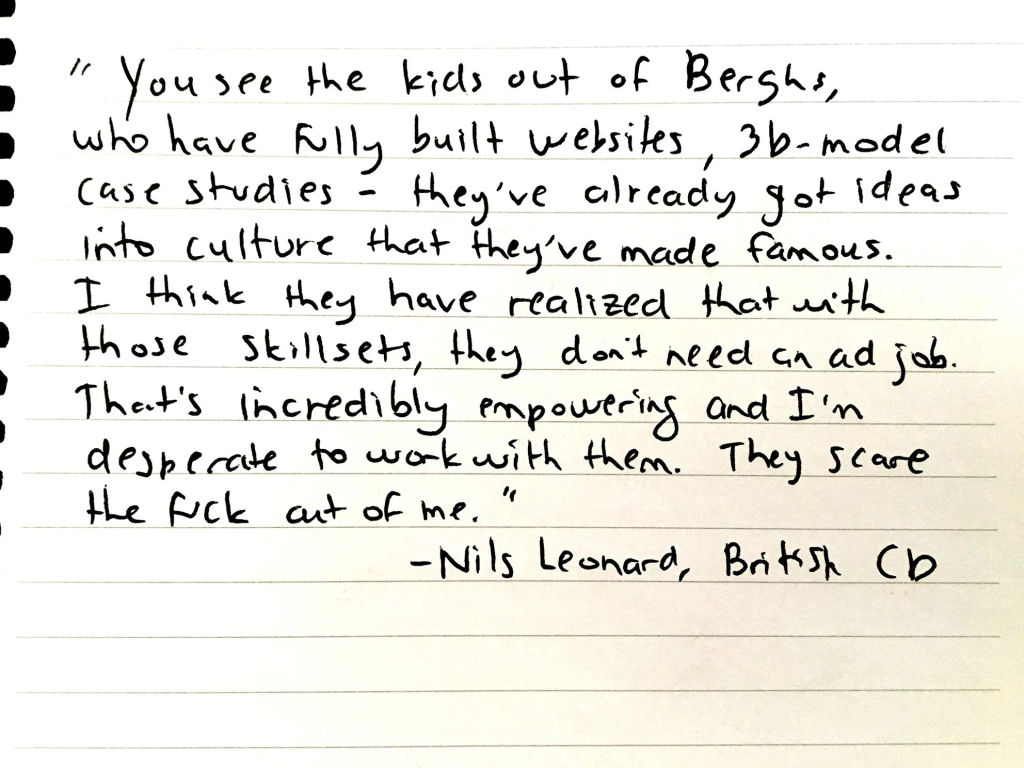 What sets Berghs apart from the competition?
Adam: It's so well established in the communication industry in Sweden that we attract the best people. Our teaching staff is world class – our students are world class. That the quality of the students is high is really a key – they drive each other more than the staff ever could. We're also careful that we don't get lazy or complacent. We work hard to keep our education and ideas fresh.
Joakim: Berghs is a unique hotspot of co-created magic. It can't be explained, only experienced.
Marco: Berghs has a great environment for design, technology, business, and creativity. We are a small school, personal and accountable, and know all our students by name. Our teachers are not "professors" – they do not lecture you, they give you tools and help you apply them. This is a hub for communication, and the network you build here is just as important as the knowledge. Also, Stockholm is a fantastic design destination, a start-up hub second only to Silicon Valley, a tech city where services and products are built around people, and a hot place for music, fashion, sustainable living, and so much more.
Patrik: Our active alumni, who regularly return to teach, bringing with them cases and practices. We also believe that our students should access a wide range of perspectives and truths. We are not the authority – they are.
Did the Berghs method evolve over time? What was learning like at Berghs when the school first opened in 1941?
Joakim: Since the founder, Gösta Bergh, was quite a rebel, I'm sure we're still a lot similar at our core.
Marco: Over 75 years ago, we were teaching print typography. Over the years, Berghs evolved with the media and industry around it. It became a school of advertising and was even owned by the Swedish advertising industry at one point. Some 20 years ago, Berghs stepped outside of that niche to focus on all things within communication (strategy, design, and technology). The idea was to prepare students for the future of this business and to serve an industry that was so much bigger than just advertising. We believe that everything communicates and communication is needed everywhere: in any business or organization. You can still learn something very specific at Berghs, but if I was to name one thing that really changed, I would say that integrated disciplines is the key now.
Patrik: As communication changes, so does the school. From drawing and creating posters for windows and newspaper ads in the 1940s and 50s to today's data-driven marketing, our offering has evolved. Our core, however, remains the same: customer insights combined with creativity.
What is the biggest challenge facing communicators entering the job market today?
Adam: Articulating their value to business, in the language of business, will continue to be a huge issue. I think design thinking helped position creativity as a strategic business advantage, but there's still a lot to do there. There are also structural shifts toward the gig economy, which can be very good mid-career but can rob grads of long-term exposure to mentors. You really need to keep learning in your first few jobs, and have role models to help you.
Joakim: The industry is going through a massive change, as is society as a whole. It's almost impossible to predict what's going to happen to consumer needs and behavior and that will put pressure on everybody to keep learning new things, and maybe just as important, un-learn. That's why tools for learning play a big part in our teaching.
Marco: Collaboration, leadership, and other soft skills are now more important than ever. A great designer or copywriter can no longer be an island. You can't hide behind your skills. You need to be able to collaborate and develop things with marketing people, developers, business. Communication is collaborative. I believe that Berghs students are well equipped for this. The soft skills that they develop during their studies here are one of the keys to their success.
Patrik: Sustainability. The fast-paced industry can be fragmented, leaving marketers with a constant fear of FOMO, that fear of missing the next big thing/tool/digital device. We want our students to rely on themselves, their creativity, methods, and team skills.
Why do Berghs students continually bring home so many design awards at leading awards' ceremonies?
Joakim: They focus on the idea first, and then on how to communicate it, not the other way around.
Marco: They are very successful at problem solving. They are not just creative, but also come up with ideas that matter.

Patrik: We teach them that they can rise to any challenge by staying true to core values such as brands and strategies and challenging that with out-of-the-box thinking. Students learn to also consider the business and innovation perspectives. Communication is so much more than advertising, and they know that.
Is there anything about Berghs' teaching method that is particularly Swedish?
Adam: Absolutely! It's really flat. Students question everything. That's pretty powerful. It's also pretty quiet here. People mainly leave you alone. And that's really good for digging in and learning.
Joakim: Equality, diversity, and sustainability are core values of Scandinavian culture and impact how we teach, and what the outcome is from learning here. As these values have become more important to the global community and not least, the communication industry, we see that they are very valuable insights to bring back home from learning at Berghs. And let's not forget the Swedish fika. I saw a study that says that creativity increases by 50 percent when you are enjoying coffee and something sweet. More likely it's about what happens when you have that fika – you become softer in tone, take in more of what others are saying, and so forth. There is a very Scandinavian touch to Berghs that you both experience and benefit from.
Marco: Absolutely, Berghs is a reflection of the Swedish communication and design culture. The Swedish identity is clear. Classes are small, everyone is equal, all opinions are respected. The staff knows students by name, no one has a PA here, the door is open, and we answer in person. You develop a very close relationship with other students and with all teachers. It's very open and flat. My French students once told me that they were not used to receiving so much positive feedback. They were not often told what they did well back in France, only what they needed to improve. We are very different in that sense, and they found this empowering. This is a safe place for talented people to grow. Outside of school, in Stockholm, technology is everywhere and there is a special design culture than makes things very interesting.

Patrik: In Swedish culture, we are often open to new technologies, cultures, and trends. Our students are sensitive and unafraid to break norms, the perfect breeding ground for out-of-the-box thinking.