From Berghs Bachelor to Ravensbourne University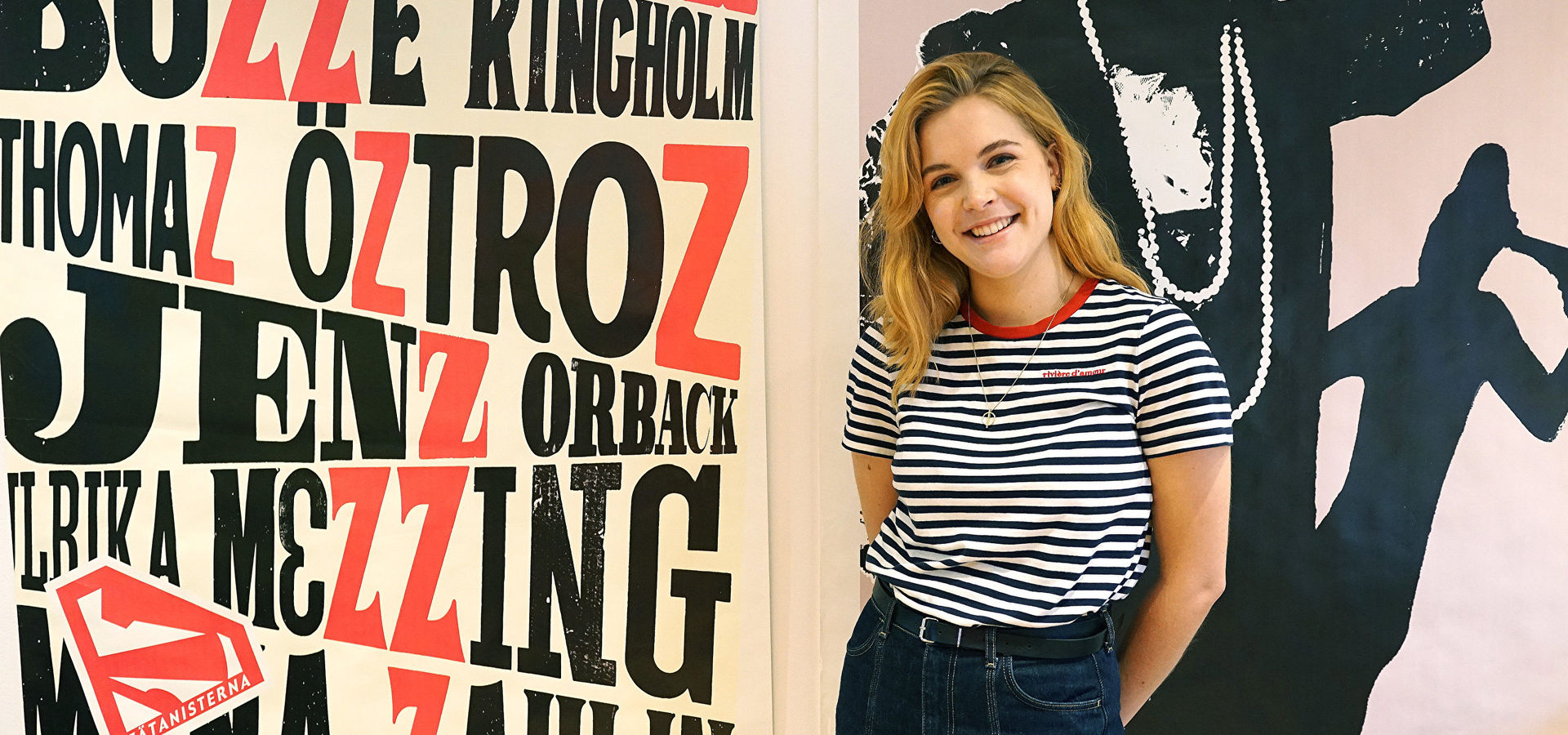 20-year-old Ester moved to Stockholm one year ago to study one semester at Berghs. This spring she will move to London to study Advertising & Brand Design at one of Berghs' partner schools, Ravensbourne University. In between she has also squeezed in an internship at the brand agency Identity Works. Keep reading for her story!
Written by David Lindh
December 14, 2018
Hi Ester! Could you tell us a little bit about yourself?
Of course! I am a 20-year-old graphic designer from Gothenburg. Before I started at Berghs I had just graduated from high school, where I studied IT and Design. I am an energetic and creative person who is inspired by color and shape.
Why graphic design?
I have always known that I wanted to work with communication. I am far too slapdash to be a copywriter, but just nerdy enough to totally lose myself in programs like InDesign and Illustrator, and so graphic design it was. In fact, I have even competed in the Graphic Design category for the Swedish National Skills Team.
That sounds impressing! What does it mean?
In short, we compete against designers from all over the world to be the best in graphic design. I have competed in both the EuroSkills and WorldSkills competitions. In WorldSkills, I came in 17th place out of 30 in the 18-25 age division. I am extremely proud of myself, that I was able to compete against people that have worked professionally in the field so much longer than I have. The reason I was able to step up to the challenge is because I dedicated a majority of my free time to deepening my knowledge. I spent many hours every day for about half a year! There hasn't been a day that has passed in the past three years when I haven't worked on improving my skills in graphic design.
How did you end up choosing the Berghs Bachelor Program?
I felt that I could have the best of both worlds; to both have the 'Berghs Experience' while also testing out studying and living abroad! I already feel like I don't want to get trapped in the Swedish bubble. I want to meet people with different backgrounds and experience a lot of new exciting perspectives! So it was only natural to study one semester at Berghs and thereafter go out into the world, in my case to London in the spring!
Why Ravensbourne?
First of all, it feels amazing to be able to test out living in such a creative city as London! Ravensbourne also has exactly the course I want to take: Advertising & Brand Design.
There was a six month gap between Berghs and Ravensbourne, what have you done in the meantime?
Normally people go abroad directly after the Bachelor semester, but the Ravensbourne program is only given once per year, so I saw it as a perfect opportunity to do an internship in between! The past couple of months I have been interning at the brand agency, Identity Works, where I have learned so much. Now I feel even more prepared to move to London.
What were the advantages of doing an internship in between the semester at Berghs and the rest of your education?
I am taking so much more knowledge with me into my studies at Ravensbourne! I have a  better understanding of what my strengths and weaknesses are, as I have actually worked in a team with senior people. The largest difference from working with a case as a student, for example, is that there is always a budget you have to keep to in the professional world. It can be both challenging and limiting, but also very educational. Hopefully I can land a job directly after my education now instead of starting with an internship after graduation. Another advantage, beyond that I know so much better what I want to learn, is that I also better understand my worth as a designer in a team.
What do you dream about working with when you are done with your studies?
Oh, I definitely want to pop over to Canada and work there! It feels like it is very relaxed and down-to-earth there which is an attitude that I like. But my dream job is to be an Art Director at an advertising or brand agency.