From California to Volvo via Content Marketing at Berghs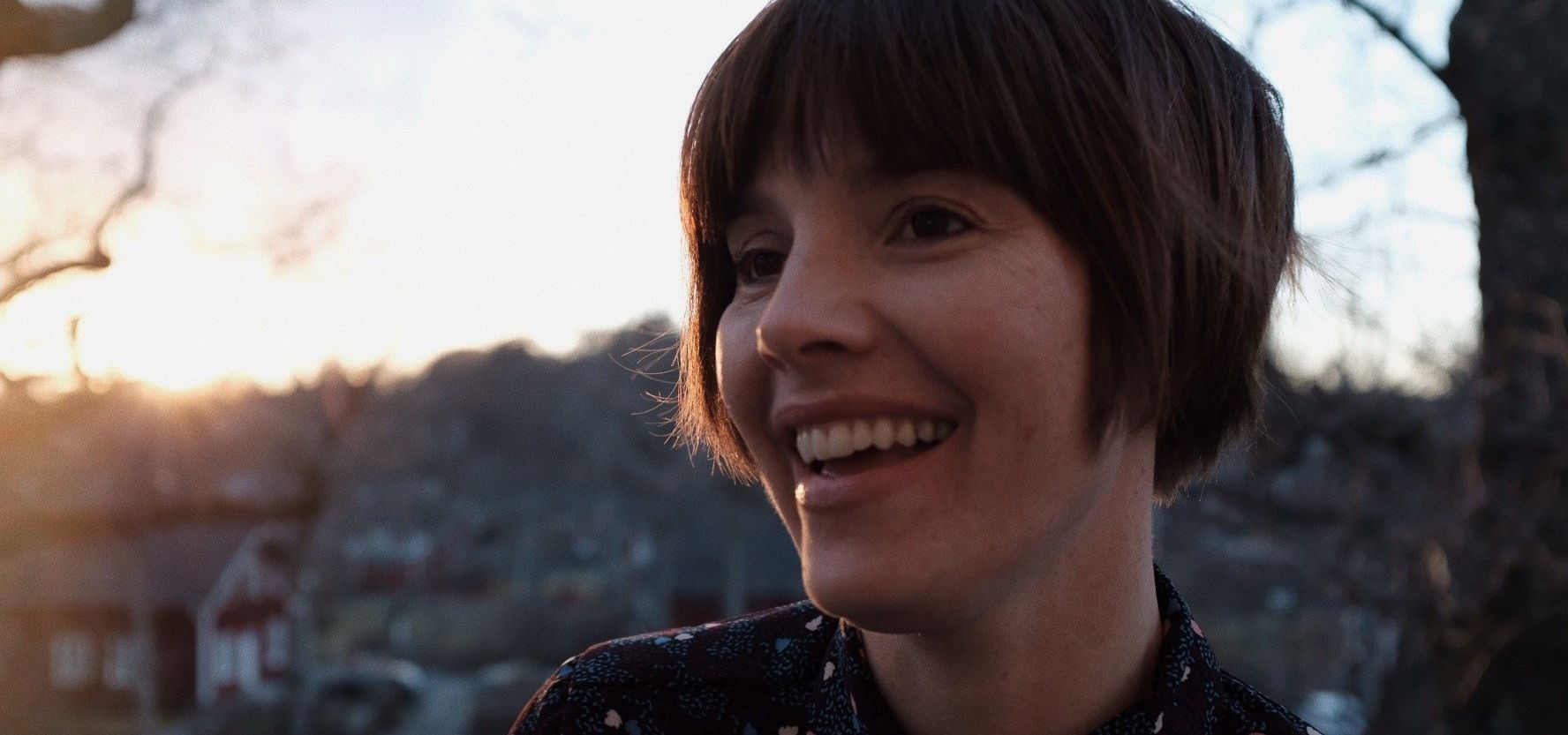 When Lydia Kellam, course director of Digital Content Marketing, told us that one of her students landed a job at Volvo directly out of Berghs – "Her final project was brilliant!" – we just had to learn more. Read on to see how Amber Stackhouse found her way to Stockholm from California, and what skills she took with her from Berghs to drive into her daily life as a content producer.
Written by David Lindh
April 9, 2019
Where were you raised? How did you end up in Stockholm?
I grew up in Maine on the U.S. East Coast, and then spent about 15 years on the West Coast. My Swedish husband and I moved to Stockholm in 2015 from Long Beach, California, after we had our first kid.
What was your dream job when you were a kid?
When I was five, I wanted to be a fashion designer, but that faded as I grew up. Then in my teens, I fell hard for snowboarding and dreamed of doing that professionally. I ended up spending my 20s as a sponsored snowboarder.
How did you first hear about Berghs?
I have a few friends that attended Berghs over the years. I'd also seen the name come up a lot in creative industry credits.
Why did you choose Berghs?
I looked around at a lot of schools but landed on Berghs because it had the best course offering and a solid reputation.
What was the best part about your time at Berghs?
The sense that I'd made the right choice. I have an unusual work background (athlete, video producer, freelance writer, brand manager for a lifestyle sports company). The knowledge I gained from the Berghs' course helped me connect all my experience, strengths, and interests under one umbrella. It helped me understand the work I've done so I could see where I wanted to take my career next.
Why did you apply for the Digital Content Marketing course in particular?
I'm interested in writing, creating, storytelling, and strategy; and the digital content world brings all this together. I applied because I hoped it would fill in some gaps I had in my knowledge and experience with content. I was also looking to get a better understanding of the theory and principles guiding the field.
Tell us about your final project.
We were asked to develop a content strategy and various content examples for M, a Stockholm-based startup (Amber now works at M). I created a digital magazine, called Kinetic, as a place for M to publish stories reflecting the shared values of the company and their target audience. Kinetic content is designed to be repurposed across all other M-owned channels. I created the Kinetic "About page," a mock-up of the homepage, an article example, and an Instagram post illustrating how content repurposes across Kinetic and M social channels.
Do you use any of the tools you learned at the course in your daily work?
Absolutely. I use some of the theory and software we covered in the class. I think the best part is the confidence the course gave me – I can trust my knowledge is up-to-date.
Did the course prepare you for the working world?
The course helped me feel more comfortable entering the Stockholm working world. And in the end, my final project helped me land a job, so I suppose you can't get better than that!
Digital Content Marketing
This course offers a foundation in digital content strategy and a practical toolbox for text, photo, and video production for digital media. You apply knowledge to practical cases and learn how to measure and improve your content value and performance.
Read more
What do you do as a content producer at Volvo Car Mobility?
Volvo Car Mobility – or M, as we call it – is focused on building a car access model better than personal ownership and existing car sharing offerings. I work on the social media and blog strategy, ideation, and production. I also work on a lot of the content for our upcoming website. This week I'm planning a brand photo shoot, going out and capturing product testimonial from users in our alpha test, and writing blogs and other web copy.
Do you feel Berghs offers a welcoming learning environment for international students?
Yes, I found the course to be international and welcoming. I was surprised by how many students had connections to Sweden. Many were foreigners living in the Stockholm area (like myself), and there were even some Swedes connecting from abroad. It was fun to meet the mix of people and backgrounds and hear what brought everyone to the course.
The best thing about living in Stockholm…
It's an inspiring place to live. The city is beautiful, the seasons and the weather can be quite dramatic, the people and homes are very stylish, and overall the aesthetic standard is high. At the same time, there is a dependable pragmatism about the culture which helps balance everything out.
Any advice you'd offer someone considering the Digital Content Marketing course?
I highly recommend the course. As with anything in life, you get what you give. So as long as you're prepared to put in the work and participate, it will go great.