Yes! And… our favourite festival moments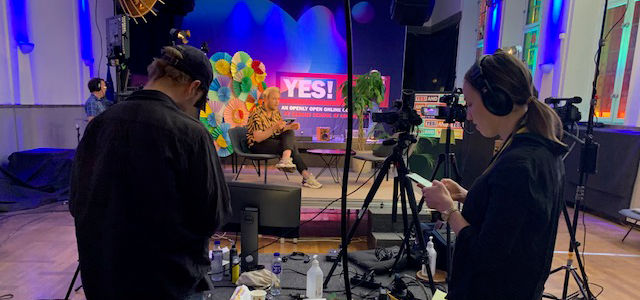 2020 sure has been a strange year. It's crazy to think that our Yes! And… festival was only a few months ago. But it's a great time to take a look back and to check in on our favorite moments. Quick! To the time machine!
Written by Adam Horne
November 16, 2020
If you missed the
Yes! And…
festival on 26-27 of May, here's a great recap to give you a taste…
One of the best things about running such a diverse festival is that there was something for everyone! We checked in with some of the Berghs team to see what favorite festival moments were.

"We had lots of names, but in the end, we decided to go for: Yes! And… It's exactly what we need this spring 2020. Build upon each other, try new things, and get fresh insight. For me the opening of the festival was energetic. Kalle Ström had an amazing talk about choices and mindset. I liked the way he combined knowledge with an inspirational conversation. To discover talented new Swedish artists is amazing. I really like Mapei, but I discovered Blenda, Felin and Lionman. And student work is always a favorite. There are so many 'aha' moments. When I dig into the work on the site, I can almost hear them presenting it in their classes!" – Camilla Wallander, CEO.
"Of course, I have to say the music. The energy in the hall was just magical. And they managed to deliver with no crowd. Amazing! Edvin Törnblom loved the camera, he had such a great flow. My favorite talk was by Jesper Hagenborn, the radio producer. He was just raw and 100% real. And the project that stood out on the site were Dear Ocean, visthusgården and of course Crayola – they brought up a crucial topic." –Daisy Dolo Goma, Café Manager and Coordinator. 
"I really liked Charbel Gabros talk about inclusion. To me, that's an important subject. The student case films like Vans – Skaters Rights and Svenska Turistföreningen are really inspiring and creative, so if you're looking for someone, check those guys out. It was a diversity of fun stuff – From Lionman singing to enjoying improvisation theatre and being a part of a yoga session." – Jelena Ljubinkovic, Content and Social Media Manager. 
"It sounds weird, but I really love seeing work that makes me jealous! There really was a lot of that. I loved Nils Leonard (the founder or Uncommon) and his advice on how to make the most of this weird year. But any event that includes impro theatre and tattoos seems pretty amazing to me" – Adam Horne, Creative Director.
"We're happy that the numbers back up our enthusiasm. We've had more than 14,000 visits to the site. That's 10x more previous festivals or grad shows! With 43% of visitors explored student work, and 35% viewed student profiles. Not only was it good fun, but it proved that we can smartly work around coronavirus by running a festival online. That's been a powerful lesson for us. And it's one that keeps us positive no matter what 2020 throws our way." – David Lindh, Online Sales Manager.
And if you missed it, it's all still waiting to be explored at


yesandfestival.com
🎉🎶🎬🎨🥳