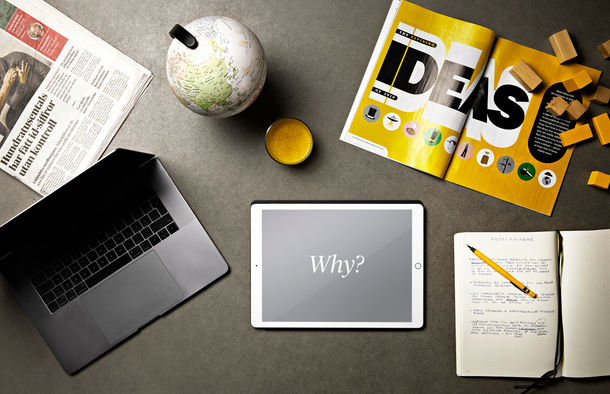 Brand Strategy
Process and principles
Communication systems
Data and decisions
Storytelling
Learn how to develop, focus and execute brand strategies that integrate business, creative and technological perspectives. This fast-track, part-time course teaches you brand modelling techniques, tools, and practical applications.
6 mar
- 29 maj 2024
Sista ansökningsdag är 8 februari 2024
Plats:
Den här kursen hålls på distans
Kursdatum:
The course starts on Wednesday, March 6th at 17:00 CET via Zoom. Subsequent lectures to take place weekly on Wednesdays at 17:00 CET via Zoom.
Egna studietimmar:
10 hours/ week
Ansök nu
*Din ansökan blir bindande först när du blivit erbjuden en plats och sedan har tackat ja.
Course Content
The course provides you with key concepts and models, relevant case studies, and a practical project to apply your knowledge to. Knitting this all together is a methodical framework that allows you to connect the dots between the different perspectives in brand strategy.
Week 1: Process and principles 
Introduction to the new brand strategy process. Logic, creative and tech-inspired principles. Case studies and reflections. Students share their personal learning goals.
Week 2: Framework
How to build an adaptive brand for the technological age. Methodology, theoretical models, reading list and case studies.
Week 3: Brand identity and communication systems
Understanding the models modern companies use to communicate their brands. Combines identity, storytelling, content strategy and channel strategy. Step-by-step methodology.
Week 4: Strategy briefs
A guide to the core suite of strategy briefs including; insight, platform, design, creative, content, prototype, activation, and measurement. Common formats, templates and best practice principles to create your own. Project kick-off where students are introduced to a client and receive their project brief.
Week 5: Data and decisions
Where to start with data, how to make data-driven decisions. Guides to data science, analytics, and key providers. Case studies.
Week 6: Storytelling
Management of meaning and the value of a good brand story in the technological age. Why some stick and others don't. Templates and useful tools.
Week 7: Integrating technology in products, services and marketing
Artificial intelligence (AI) and machine learning (ML). An explanation of the technologies that will drive all products, services and marketing communications. Case studies and methodology. Practical team exercise.
Week 8: Integrating technology in user experience
Augmented reality, image recognition and voice. A summary of three futuristic technologies that will define user experience. Case studies and methodology. Practical team exercise.
Week 9: Activation strategy
How to devise, document and direct activation strategy. Best practice principles and templates.
 Week 10: Effective presentations
How to create effective and compelling presentations. Best-in-class examples. Open session to discuss individual student questions on their final assignment response.
Week 11: Final client presentations
Client meeting and strategy presentation. Peer to peer feedback during the session with considered feedback from the course director and client after the session.
Week 12: Defining roles
Summary of the course and open discussion on developing roles within organizations. Networks and relations. How to create a strategic portfolio.
Added Value 
The course also includes process charts, frameworks, recommended reading list and tips on tailoring the process to you and your organization. Before commencement, all students set their individual learning goals and concrete action points. Individual tutoring sessions are also offered towards the end of the course.
Who is this course for
You have 5+ years of professional experience in one of the three areas covered by this course (strategy, creative, technology) or in a multidisciplinary role. You want to upskill or transform your knowledge base for a new challenge. You want to demonstrate the value of your brand, drive it forward with a broad perspective and lead teams across silos.
Sign up for newsletter
Ansökan och antagningskrav
Vad kostar kursen?
Studieavgift inkl. moms
38 750 kronor
Studieavgift exkl. moms
31 000 kronor
Lokal momssats kan gälla, läs mer här. Valutaberäknaren ger bara en uppskattning. Slutgiltigt pris kan skilja.
What do the students say?
"Very enriching environment with professional and dedicated class. Highly motivated teacher with great knowledge, empathy and listening abilities to drive and educate an interesting course packed with useful content, tips & tricks, insights, techniques, and cases from real life." – Course participant, Spring 2023
Key Learnings
Brand strategy development
Brand identity systems
Briefing formats, tools and templates
Data, and business intelligence
Making decisions
Storytelling
Latest technology in marketing
Products, services and experience
Strategy presentation creation
Experience with a real strategy pitch
FAQ
You'll find answers to the most frequently asked questions here
How to enrol
By clicking on "REGISTER" on this page, you take your first step towards enrolling in the course. There are no financial obligations at this stage. You will then receive an offer of enrolment and be asked to provide your invoice details. Before the course starts, you will be asked a few questions about your experience.