What is Berghs like for international students?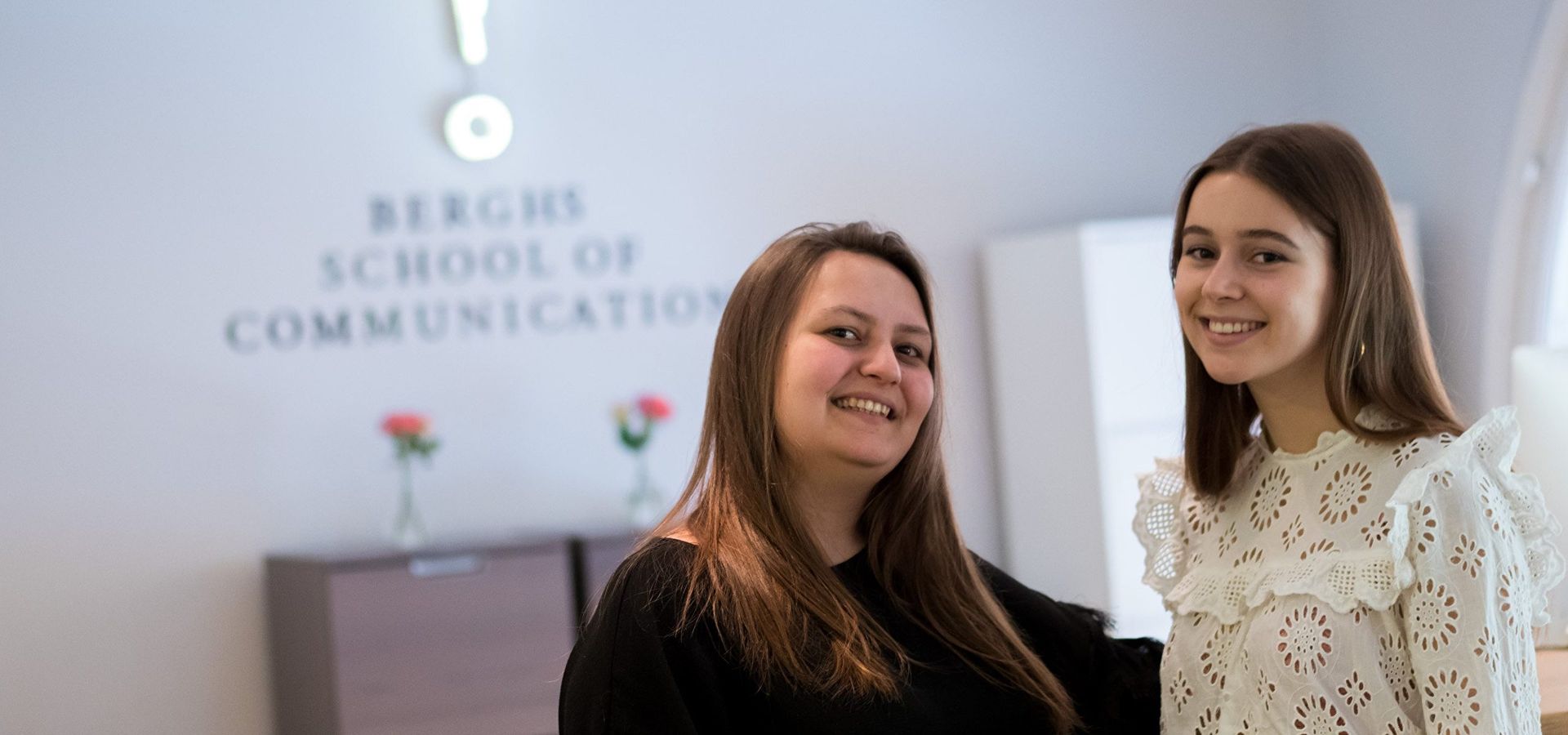 Auriane Gaudine and Inés Colomer from EFAP in Paris spent a semester studying on the Bachelor Program at Berghs. We asked them to explain the highs and lows of being an international student both in Stockholm and at Berghs.
Written by Berghs School of Communication
May 2, 2018
What better way to understand the experience of being an international student at Berghs than to ask someone who knows first hand. Luckily for us, we were able to speak with Inés Colomer and Auriane Gaudine, two exchange students from EFAP, Grande Ecole de Communication à Paris, who attended Berghs for the spring 2018 semester.
We caught up with Inés and Auriane during Industry Week, a time when students visit various clients and agencies across Stockholm. "This is one of the big differences," Auriane explained. "In Paris, industry professionals come to our school, and we have internships, but visiting an office like this is different. Good different, you get a feeling for what it is like to work there."
Both Auriane and Inés are in Sweden for the first time ever, and have been here since February. "The cold was the worst for me," says Inés, "it was really bad the first time, but now the weather is amazing." The cold didn't bother Auriane as much, when asked about what was hardest to adapt she answers "The rythm of life is different. People eat dinner early, and if they go out they head out early. The the clubs close and the parties end earlier too. I'm used to a later social life, so that took some adjusting."
They both agree that social life is great. They were both prepared that it could be hard to get to know people as an international student, but the introduction week at Berghs really brought the class together. "I felt very welcome," says Inés, "I haven't felt alone during the time here". Auriane agrees that the social aspect is great whether it's on week nights or weekends.
Stockholm has a reputation about being really hard when it comes to apartments, but neither Auriane nor Inés had problems finding apartments. "We used Facebook. There are a couple groups for French expats, and it didn't take long to find a place," tells Inés, and Auriane continues "It's easier than in Paris. Here they just asked who I was and why I was in Sweden, and it was done. In France, the process is more extensive, you have to give many more details and even your parents have to be involved."
Berghs Advanced
Berghs Advanced is an intense full-time study abroad semester, delivered on-site at Berghs in Stockholm, that gives you a set of professional communication tools before you start your career.
Learn more
"Another big difference is that in France, the culture is to continue with a higher education directly after high school", says Inés, "many of our fellow Swedish students seem to have taken time off in between to travel and gain experiences." They both agree that their class at Berghs Bachelor is more diverse than their class at EFAP, something which combined with all the work being done in groups has taught both how to work with different types of people. We asked both "What are some of your biggest learnings so far?"
Auriane: "I chose the graphic design track, and it was intense for someone like me who has little experience with it. It's not something I will work with, but I learned a lot of things that will be useful in my future career"
Inés: "The strategy track really changed and expanded how I look on strategy."
"So what are your plans after this semester?" we wonder. Auriane, who only has an exam left before graduating, says that she wants to work at a the creative department of an advertising agency. "Perhaps start with copywriting, and then on to strategic planning", she says. Inés, who has two more years – three if she chooses to take the optional gap year for industry experience – says she'd like to work in the fashion industry. "I've done three internships in the fashion industry, and I really enjoy the PR aspect. I'd also like to work with influencer relations!"
Did this pique your curiosity about studying at Berghs? Berghs Advanced is an add-on semester designed for international students who want to learn more about communication, creativity, digital tools, data, design, and presentation techniques. On May 8, you can join a Q&A session about the program and about studying at Berghs as an international students. Read more and register here!