Berghs Students Spotlight Banned Books Week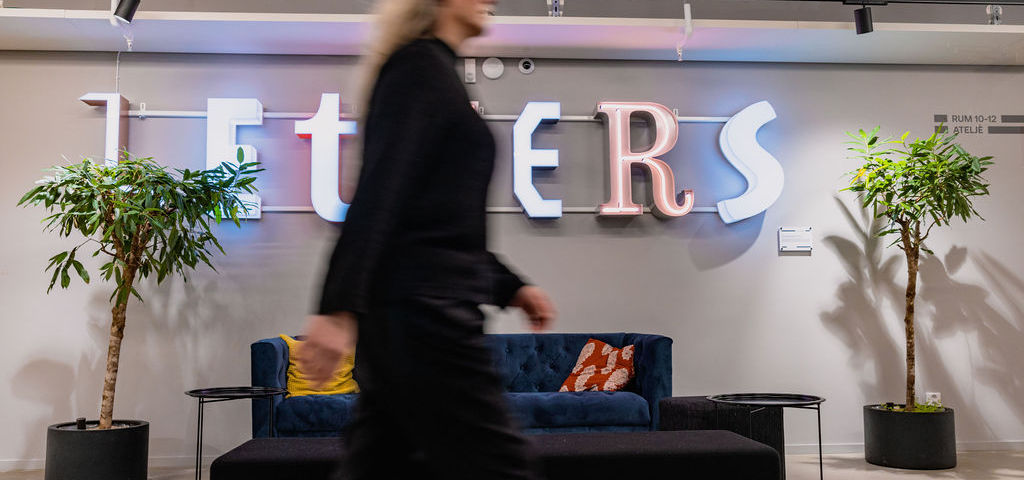 Banned Books Week is an annual event that celebrates the freedom to read, and encourages dialogue about the importance of access to literature, even when some works may be considered controversial or challenging. This year, some of the international students at Berghs took a creative approach to shine a spotlight on these issues. The students who worked on this project are from India, Norway, Trinidad & Tobago, Bolivia, Germany, and the USA.
Written by Max Maccarone
November 16, 2023
Berghs faculty invited students to join a conversation with Hanna Nordell, Managing Director of Swedish PEN, and Ulrika Dahlberg, librarian at The Dawit Isaak Library to better understand the state of book banning and freedom of expression around the world. This sparked the start of the creative projects that students took part in.
We caught up with some of the students to ask about their projects:
1. Why did you want to get involved in doing something highlighting Banned Books Week?
Keylon: My awareness of the discussions surrounding banned books and Banned Books Week was non-existent prior to my arrival at Berghs and in Sweden. With this newfound knowledge, I felt compelled to participate in the conversation.
André: I got involved in highlighting Banned Books Week because it's crucial for people that are outside the "status quo" to have the right to access diverse ideas and perspectives. This week is a way to promote open discourse and challenge censorship.
Phorum: In my home country, India, I have witnessed banning of books by Indian and global authors I have respected and read. The most popular being Salman Rushdie, whose book Satanic Verses has witnessed fire since it was first published in 1988, which elevated to an attack last year where he lost an eye.
2. As a communication student and professional, why do you think working with issues like freedom of speech and print are important?
Keylon: Stories unite us, and when we are deprived of the chance to tell and exchange them, it's a disservice to the human experience. Being able to share and learn from one another is critical to our growth as individuals and as a community.
André: As a communication student and professional, working on issues like freedom of speech and print is vital to show different sides of the world, people and stories. Clearly something is wrong when a book about LGBTQ+ content has been banned for telling a personal story which does not harm anyone. And for us working in communication, gives us a unique opportunity to target those issues and voice our counter opinion for change.
Phorum: 
I am a voracious reader, and I love the affair a reader has with words of a well-written book. It is the silent dialogue that goes on between the author and reader who shares his/her journey by being the end receiver of his writing. 
This thought made me want to support and join what I call the "banned-wagon". 

As a communication student and professional, first, we understand the effort any craft requires. It is literally a journey of sweat and blood. When a book is banned, it is a loss or caging of many democratic rights – freedom of speech, freedom of expression and the list goes on. 
One book that I read during the banned books week was Gender Queer, which is the most banned book in the United States. It is an honest story of the author Maia Kobabe's journey with her own sexuality. Every page is an act of bravery to come out, and bare one's own confusion and conversation. 
I took part in a BookTok project created by my classmates Nicole Ender and Nora Hindenes. I recorded a BookTok on Khaled Hosseini's The Kite Runner. I got the chance to tell the viewers what I liked about the book, and encourage followers to read it, and also record their experience of reading a banned book. A banned book gets a new lease of life with every new reader.
 Check it out here: LINK TO THE TIKTOK ACCOUNT
3. Tell us about the work you did and the idea behind it?
Keylon: Working in a group with André and Noah, we decided to highlight a book called "All Boys Aren't Blue." It has been banned in eight states in the USA due to its content, which includes LGBTQ+ topics and conversations about race. We were inspired by the book's vivid cover, which depicts a male wearing a crown of flowers. This led us to create an art installation called "Unable to Bloom," which portrays the consequences of silencing stories that are meant to be told and heard. 
André: Unable to bloom is speaking about these topics. While the glowing place of the book and light represent the voice of the book, the voice dies due to censorship, forcing voices like this to be dimmed. The persons who need the story of «All Boys Aren't Blue» are not able to read it, which is why the story is unable to bloom. We need stories like this, for identification purposes, but also to highlight where society has done people wrong to combate this personal stories in the future