Why Berghs Advanced attracts international students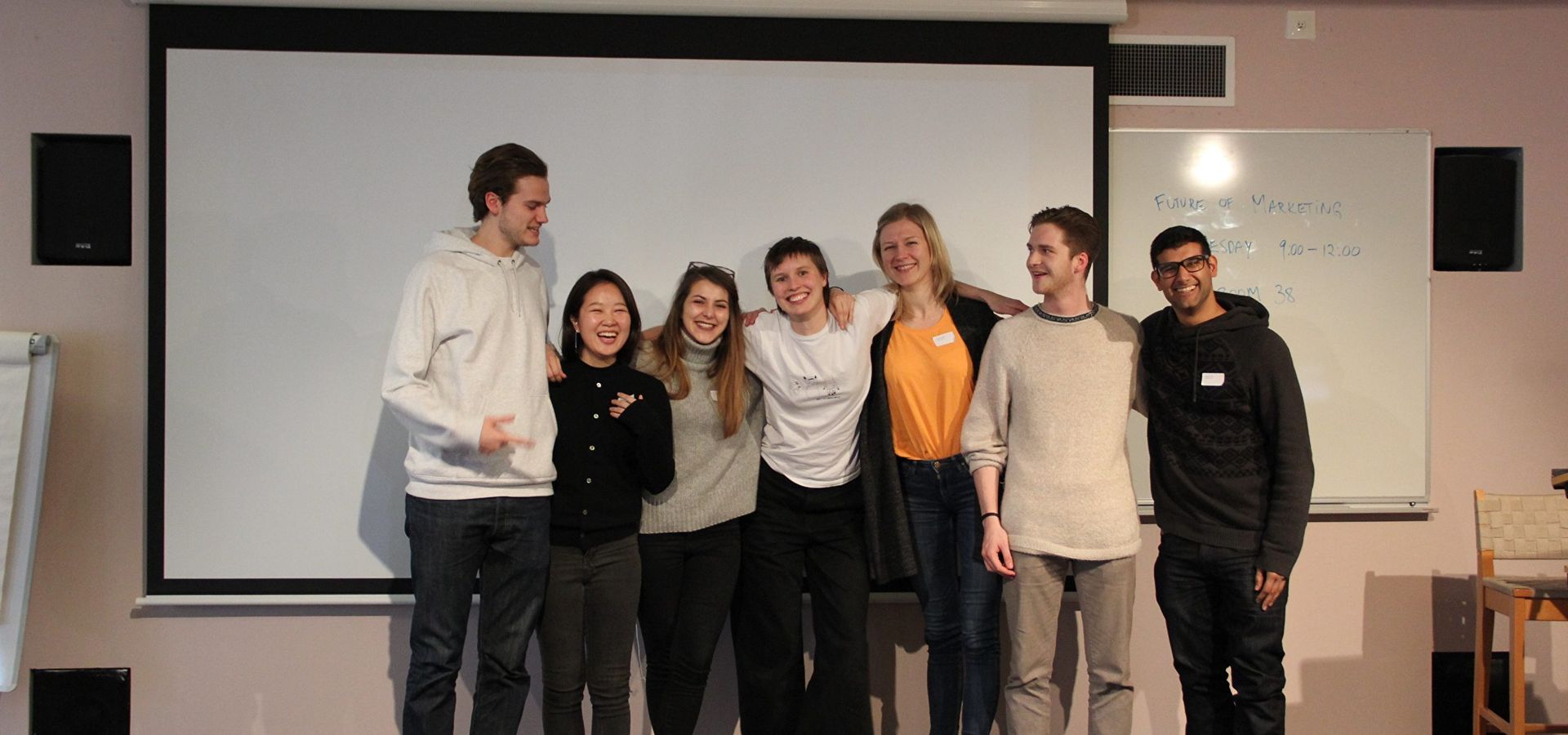 Berghs Advanced is designed for international students coming from communication, art, business, and technology schools. We spoke with students on the Spring 2019 Berghs Advanced course to learn about the nitty-gritty of life as an international student in Stockholm and just what's it's like to learn so much in a compact space of time.
Written by David Lindh
May 13, 2019
Why did you choose Berghs Advanced over other schools?
Anna: It ticked all the boxes for me. Berghs' range of courses, action-based learning, and teaching by industry professionals sounded perfect.
Hanna: I had heard about the school before, and it looked like Berghs was the best place in Stockholm to study communication.
Min: A cost- and time- efficient way to learn about marketing trends and skills.
Morgane: Sweden is the second most innovative country after South Korea, and I've always been attracted to the Scandinavian lifestyle. Berghs seemed to be very different and has received many awards. The feedback I received about the school convinced me to choose it. Also, the courses on offer are different from those in France.
Sandor: I had many schools from all over the world to choose from for this exchange – I was deciding between South Korea, Hungary, and Sweden. After researching the courses online, I learned how popular Berghs is in Sweden, a country admired around the world for its performance in many fields, including design. And I learned about the many awards the school has received.
In which ways is the learning environment different in Sweden than where you're from?
Anna: In Sweden, there is an expectation that you take responsibility for your own learning. It really is a case of the more you put in, the more you get out of the course.
Hanna: Berghs is different not only from Belarusian schools, but also other schools in Sweden (I studied at Malmö and Stockholm universities as well). The environment at Berghs is not typically academic. The teachers are not traditional professors, but industry specialists. That makes a huge difference: all the learning is a combination of little theory and a lot of practice.
Min: In Korea, you are more passive as a student – you're quiet and don't ask questions. At Berghs I had to reflect a lot and not only that, I had to share and discuss my reflections with other students and the teacher.
Morgane: More practical. In France, school is more based on theory. Here, I could apply my knowledge in other ways than by just creating a file.
Sandor: In many ways. Sweden has a strong feedback culture, which I find very useful. In France, people are often afraid to express their thoughts or feelings. Also, there are many nice places to study in Stockholm. Paris is a very crowded city, and even if we have very beautiful monuments and museums, I find it very hard to study in public places there. My third insight would be that companies in Stockholm seem keener to take the time to welcome students to their offices than in France. Swedes are much better at sharing!
What is your greatest take-away from the course?
Anna: Creativity is a process. As an artist, I had a process of my own, but it was cool to see how you can apply design thinking processes to business strategy, product/service design, and communication.
Hanna: The practical experience, including working with real clients. I also learned to prototype and apply a design-thinking process to product development. These skills give you whole new perspectives on what you can work with.
Min: Confidence. I feel like I can do something good and pair up with international classmates.
Morgane: I've learned so much in three month. My greatest take-away is probably the fact that I created projects with people from all around the world.
Sandor: I've learned a lot about the importance of prototyping. Building a good prototype can help shape an idea to make it attractive and understandable. Then, the importance of testing your prototype. Ask the right questions to the right people to make sure you are on the right path. As Fredrik Heghammar says, "Build the right 'it' before you build it right." Great take-away! I've also learned a lot about myself and the importance of listening to others during teamwork.
What was the most difficult part of the course?
Anna: It was difficult to balance all the new things we were learning while also working in a team, where we were all at different levels. It was challenging at times, but definitely some of the biggest learning came out of that.
Hanna: Data-driven strategy and UX design. A whole new area for me.
Min: Since there were so few students in the course, sometime it was a bit tricky to learn from each other well.
Morgane: To understand what our teachers expected from us.
Sandor: Teamwork can be excellent as well as disappointing.
"It was easy to settle in. Everyone speaks English and was very welcoming."
– Morgane Mathieu
What are your plans for the immediate future?
Anna: I want to return to my workplace at a design studio, where I had only just started before the course. I have requested to expand my role to include internal and external communication. I am also considering a couple of internship options with some start-ups I met during the course.
Hanna: I'm looking for a new job in communication.
Min: To get a job in Sweden.
Morgane: Finish my studies, going to Paris and then on to New York to get my MBA.
Sandor: I'll return to Paris for my last year of studies and try to find the right end-of-study internship. I also have a personal project with a friend but we're still working on the idea – building the right "it."
Do you feel Berghs Advanced has improved your chances on the job market?
Anna: Yes, definitely.
Hanna: Yes, definitely. In part because of the good network here.
Min: Hopefully. I'm going to meet someone the course instructor introduced me to and hopefully be offered a job opportunity.
Morgane: Definitely. The networking at Berghs was important. It was the first time I felt I was not only a student, but a future communication professional as well.
Sandor: Yes, for the Swedish job market.
What were your course expectations when you first started? Were those met?
Anna: As cheesy as it sounds, my goal was to find my direction. Before Berghs, I was very lost about what I wanted to do. Now I feel confident and have a much stronger sense of what I need to do to get to where I want to go.
Hanna: To bridge the gap between my previous background/experience and my new desired career. I hope my new skills will help me in that.
Min: I hoped I could get to know the market landscape in Sweden and expand my human network here. I think this course met 70% of what I expected at the start.
Morgane: I wanted to learn more about the communication world, so yes, it met my expectations.
Sandor: I expected to get to know more about the Swedish communication industry and about myself. I've learned about both, so yes.
Any advice for incoming Berghs Advanced students?
Anna: Get everything you can out of your time at Berghs! The teachers, the students, and the network Berghs has to offer is an incredible pool of talent to dive in to.
Hanna: Set clear goals for your studies. Know what your expectations are, and feel free to talk about them with your teachers.
Morgane: Enjoy fika as much as you can!
Sandor: Take the time to get information on the lessons' topics and see if they really match your needs. Also, teamwork can sometimes be stressful (especially when you have a lot of work to do in a short time frame), but don't panic and take the time to listen to your classmates. It's always worth it!
"Communication skills are an important asset for working in almost any industry."
– Hanna Liovina
Interviewees:
Anna Hedström, Australia
Hanna Liovina, Belarus
Min Cho, South Korea
Morgane Mathieu, France
Sandor Lazar, France