Älska fotboll – Brand X kick off!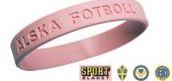 The students were clearly pumped to kick start this year's Brand X-week. And so was the client. For one whole week the students take on a given brief for a real client and come up with creative ideas, solutions and concepts in groups that cross class-borders. A declining interest in Swedish football is a trend that the Berghs students are asked to change. Now they have one week to work out their creative concepts.
Skrivet av Berghs School of Communication
Oktober 29, 2010
"Älska Fotboll" is a trust fund founded in 2005 and is a collaboration between Aftonbladet, The Swedish Football Association, Swedish Elitfotboll and The Women's Football Association.
They collaborate around the prevention of football related violence. During 2005 and 2006 Älska Fotboll sold almost 300 000 bracelets, but since then there has been no revenue generated and no activities initiated.
It is time for all Berghs full-time students to relaunch the foundation and use the resources to build passion for Swedish club Football.
The assignment for Brand X 2010 is to reverse this negative, declining trend, and to campaign for and build awareness of and a passion for Swedish club football.
With use of Älska Fotbolls resources the students have one week to come up with a positive campaign, to be launched during spring 2011. The campaign should hopefully carry on for years even without the support from the foundation.
We wish the students luck and look forward to seeing the result!