Berghs is the best advertising school – in the world!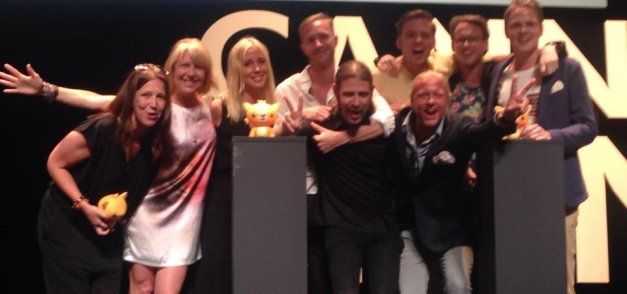 Today Berghs was awarded School of the Year at Cannes Lions 2014, making us one of few institutions in the world to receive the honor three times. The recipe for success is to teach the students how to solve real communication problems.
Skrivet av Berghs School of Communication
Juni 18, 2014
– As a Swede it makes me proud when two swedish student groups use communication to make the world a better place. Our success in Cannes is proof that Swedish creativity is not only on top of the world, but leading in the global development, says Ewa Björling, Swedens Minister of Commerce.
Moments ago, Berghs was awarded the best advertising school in the world, after two of the schools student teams – Do Zero for Climate Change by the students Afshin Piran, Linda Kraft, Pia Hansson Näslund, Sebastian Sandberg and Fabian Lakander, and Google Gesture by the students Ludwig Hallstensson, August Östberg and David Svedenström– won GOLD in Cannes Future Lions, both winners focus on using communication to benefit society, which is an integral part of Berghs' curriculum. The two teams competed against around 1700 other entries from all over the world.
The problem solving behind the success
 – Our model is based upon letting students from different disciplines work together to solve any kind of problem, using their communications skill-set. Both GOLD winners are fine examples of this unique method that we recently introduced across our complete curriculum, says Camilla Wallander, CEO of Berghs School of Communication.
The international interest for our courses and programs has increased in recent years. As a Berghs student you are attractive on the international market, but alot of international students are trying to make their way to Berghs also, beacuse we are unique in our education. Because of this we recently launched our new online program Berghs Certificate – an eight month program, all in english.
We are so proud to accept this award and we want to specially congratulate and thank our students and teacher.
Read more about Berghs Certificate here.