Famous, one of Belgium's largest independent advertising agencies visited Berghs for a three day digital Boot Camp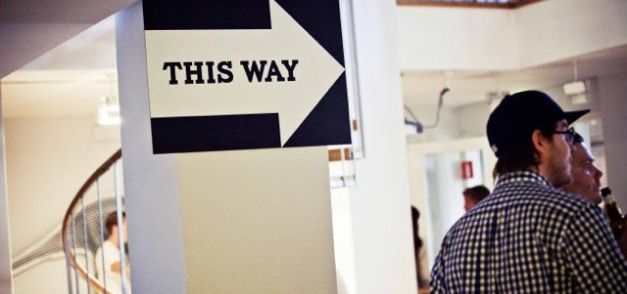 Early October, one of Belgium's largest independent advertising agencies Famous visited Berghs for a three day digital Boot Camp. CEO Marc Fauconnier brought 15 co-workers to get some digital insights. "If my people go home feeling convinced that within the digital world our creative culture as an agency can flourish, I would be very happy", says Marc as we meet up during the boot camp's second day.
Skrivet av Berghs School of Communication
Juni 5, 2014
Marc Fauconnier; CEO of Famous, tell us what you are doing at Berghs today?
We, as an advertising agency, are confronted with a market and a media scene evolving very rapidly. We want to be sure that we catch up with modern time and try to service our clients not only from a classical bought media perspective but also try to be keeping up with everything that has to do with earned media and social media. Digital solutions are becoming more and more important to us. The group I am here with is not the creatives, they might follow next time, but our commercial people.
We have some nerds, very creative technologist that don't always succeed in convincing clients about digital projects, so we want to throw them into the bath and teach them how to swim by a Boot Camp like this.
What brought you to Stockholm and Berghs?
A school like this is quite rare. There is no school as such in Belgium, only dedicated to communication. So we went looking and we read some reviews about your school that were very positive. Also, Sweden has a good reputation regarding digital communication. In our business we see that often Swedish agencies and campaigns win a lot of interesting awards all over the globe with their digital campaigns so there is quite some knowledge to be found here. I've been told that many people winning these awards today are educated in this school. So basically, if we would like to be inspired, why not be at the best spot for it. Berghs has a very good reputation and it is of course always nicer to go abroad. Stockholm is a very nice city, so that's a fun component.
Tell us a little bit about your agency, Famous?
Famous is one of the biggest, if not the biggest, independent advertising agencies in Belgium. We are 85 people and we have some nice clients, Bacardi Martini, Hyundai cars to mention some of the brands we work with. We try to service them more and more from a holistic perspective and not just doing the advertising like we did ten or 15 years ago, but come up with solutions. They are sometimes classical but more and more often digital. Best solution for a commercial problem. Try to be as creative as possible, which is probably the biggest differentiator between Famous and other agencies in Belgium. We are considered one of the most creative agencies in our market, we often win creative awards. More and more with digital applications.
A few days ago we launched an idea that went all over the world. It's called "Child not found". You know the "Error 404"-pages; we replaced it with Child not found. So it's a child focus, Missing Children Europe being the client. We have developed a digital solution, all companies participating in the action show on 404 Child not found instead of Page not found. In fact it's a media idea, but digital also. We want to convince our clients that those solutions in the world of today are often better than classical. We need the tools, skills and the vision to spread the word.
Can you mention a Swedish campaign that you like?
I think that on a digital level IKEA does a lot of great work, all over the globe. They are often rewarded and makes a good source of inspiration for us.
You are half way through your stay in Sweden and at Berghs. Are you happy so far?
Yes! Even though being commercial, we brought a group of people that are mixed;  some people with basic knowledge and more those more advanced. The teacher at Berghs finds a good way in between that gets everybody involved. The feeling is that it's basic enough but also including some issues for the more advanced to discuss. Not only from a content point of view is it a very interesting exercise, it's also very inspiring, the fact that were all together concentrated on the digital issue. It makes people change their attitude in the future, not only about content but also attitude towards trying to pick digital up and bring it into our DNA as an agency.
What do you want your co-workers to feel tomorrow evening when you go home?
With a feeling of enthusiasm about working in a digital environment and to be reassured that digital is a source of great creativity, that it's not just some techy stuff. In the digital world, creativity is even more important than in a non-digital world because the consumers chose themselves where they look and where they don't look. If my people go home feeling convinced that within the digital world our creative culture as an agency can flourish, I would be very happy.