Nazanin Binisi: "once you log in to Berghs, you'll never log out"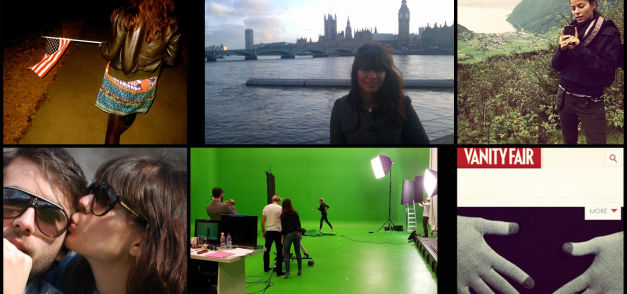 Almost three years ago, Nazanin Binisi graduated at the Account management program at Berghs. During the years that passed since, Nazanin has been living, studying and working in Boston, London and Oslo. Today she fills her days at Scandinavian Design Group and with her side project Tatchies, designed gloves that works on any touchscreen device. Read Nazanin's story about life after Berghs.
Skrivet av Berghs School of Communication
December 9, 2011
Hello Nazanin! You graduated from Berghs almost 3 years ago, what's happened since?
Hej Berghs! Lots of things happened since. During my time there, I was happy meeting my fiancée David Prentell from my parallel class – Interactive Communication. After finishing our studies we decided to move abroad and luckily we had similar goals. First stop was Boston, where I studied Business English at the Boston Academy. Our second stop was London, where I started off as a Jr Producer at B-Reel and left as a Global Project Manager at Hyper Island. Leaving 12 hour work days and the stressful yet amazingly fun life in London, we are now living in Oslo where I'm trying to ride the Norwegian work-life balance wave. Thanks to the experience I've gained so far during and after Berghs.
Did your education at Berghs prepare you for what would happen next, work-wise?
Yes, for sure. Both as you get prepped working in teams with all different kinds of student disciplines and being close to the industry. Since all Berghs' guest speakers comes from the outside working within this industry. This is giving us students an overview of what to expect and how to cope with what is going on under the hood of an agency.
What are you working with right now?
I currently have a gig at Scandinavian Design Group, Part of McCann Worldgroup as a Digital Account Manager – loads of fun within an inspiring environment where I'm spoiled by working with some of Scandinavia's best designers. The biggest client is Statoil ASA (the energy and oil part) where I'm doing my best orchestrating their global digital campaigns together with an awesome team from around the world.
I also have a side project – Tatchies – together with David, Hampus Schäring (from Stockholm Schools of Economics) and Markus Andersson (Berghs-graduate '10)
Tell us about Tatchies!
We use to joke and say that we're the traditional glove's worst enemy, but it's kind of true since we're producing and distributing designed gloves that works on any touchscreen device.
It all started with an idea back in 2010 and then we just made it happen out of the fun of it. We are scaling fast and are shipping from our website to cold parts of the world as well as putting our footprint in stores all over Sweden (NK, Jupiter, You e.g) and a couple of stores in Switzerland and France. Last week we even got featured in Vanity Fair, so fingers crossed – we might have an exciting year ahead of us with upcoming product innovations, a brand video and fashion fairs.
As a former student entering your professional life, in what ways do you feel that Berghs is still with you?
First of all – meeting my fiancée! Secondly – the network of great people. E.g Lisa Rytter who studied PR the same year as I and helped Tatchies with do's and don'ts regarding PR. This has been very valuable before we started contacting magazines and stakeholders within the designer community. Another thing is being able to contact old teachers getting advice, recommendations and contact details to companies / agencies where I might want to work. So, it doesn't really stop after graduating from Berghs – once you log in to Berghs, you'll never log out. At least if that's the way you want it.
With a couple of years as professional within the industry, what do you think was the single most valuable thing you learned during your year at Berghs?
The importance of teamwork and the understanding of how to lead and manage teams within tight budgets and deadlines. In theory you could get assignments and open up an as big budget as you'd like. At Berghs our scope was real along with the cases we've got.
If you were to give the students a piece of advice prior to their entering the industry, what would that be?
Prepare yourself for late nights and hard work – some days you might think if it was worth while, but it's those days that you learn the most and will make you grow even stronger. After graduation you'll continue to learn which is the most exciting thing about this industry.
What are your own plans for the future?
I'm very pleased where I am right now and might stay for a while. I want to keep surrounding myself with talented, positive and open-minded colleagues. And to work in multi-disciplinary teams that shapes innovative products and services that hopefully makes life easier and better for people.