Rasmus Keger – from Berghs to R/GA, New York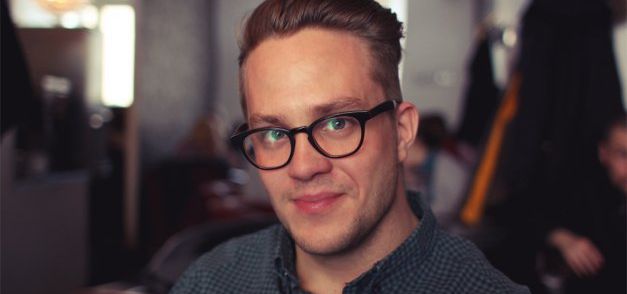 Rasmus Keger is the Art Direction-student that teamed up with his classmate Axel and were hired as a creative team by the well-reputed firm R/GA in New York. On a two-week vacation in Sweden, Rasmus and Axel made a short visit to Berghs to inspire the students on how the industry works in USA and how to be able to work abroad after graduating.
Skrivet av Berghs School of Communication
April 1, 2011
How did you get the job at R/GA?
Some classmates and I travelled to NY to receive an award in the One Show College competition, we were given for our entry called "Hoofmade Horseradish" for a company called Long's. During our stay there we also had the opportunity to attend an arranged speed dating with 40 different NY based advertising agencies. The line to the R/GA´s representatives were by far the longest and we waited for nearly 30 minutes before we were able to present our portfolios. A few days after that we were invited to R/GA headquarters to meet the big shots! Since then we have been working there.
What's it like to work at RGA?
The NYC Office has around 760 employees, so it's quite big, although it doesn't feel like machinery. Every Account has their own floor so it's almost like there are several different agencies within the agency. On the different accounts we have people from all disciplines, like Planners, Mobile developers, Programmers, Designers and Creative's, Producers, Account people. Much like the integrated way we worked at Berghs. Usually you are placed in a team on one specific account, but Axel and I have had the opportunity to work in a more flexible way. We work as a team, pitching ideas to the different accounts and therefore we have touched almost every account at R/GA. It's inspiring and I try to learn as much as possible from the great talents we work alongside with.
Why are Berghs students so successful abroad?
Well, I can only speak for the States where I've been. But I think that students from Berghs are perceived as being in forefront of the communication industry, thanks to the teachers being professionals, active in the industry. And also that Berghs' focus on both traditional and Digital advertising. For me personally I had great help from my education at Bergh's and my background as a Visual Designer and I still do to this day. To be able to present your ideas in a compelling way is always good. But studying at Bergh's also means that you work close together with other people in the communication world, such as Account Managers, PR personnel among others, which will give you an advantage out in the real world. I feel like there wasn't a huge difference between studying at Bergh's and working.
How does one succeed in this business abroad?
I think you have to work hard. And try to be open to ask people for help. It's impossible to be an expert in every field, so stick close to people that are better than you and learn from them. Always present ideas that you like, don't try to satisfy other people. Remember that they hired you for your expertise. And last but not least, do something totally different that has no connection to advertising what so ever, and get inspired!
Here is a video of one of the pieces that really inspires me. Instead of doing a 30 sec TV spot about the flavor and the heritage of this beer, they created a new product: