Tommy Lagestam: "The communications industry needs new voices"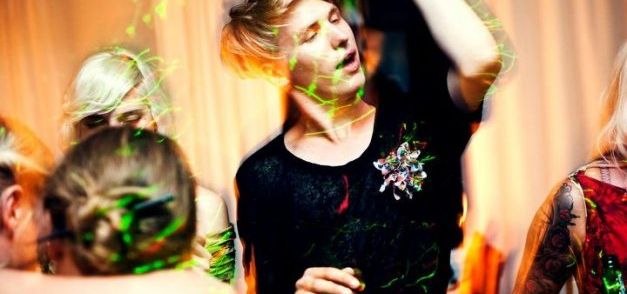 Tommy Lagestam is about to leave Berghs. And Sweden. This week, this fall's class of Berghs Bachelor students will end their time at Sveavägen and make their way into the world, to their respective partner schools. The destination on Tommy's plane ticket is San Francisco, where he'll major in copywriting. " I want to end up somewhere where I can work to bring about change."
Skrivet av Berghs School of Communication
Januari 19, 2012
When 21-year-old Tommy Lagestam submitted his application to Berghs nearly a year ago, he was living in London.  He had already put Borlänge behind him for studies in Lund and Stockholm. With fashion as a major interest, Tommy hoped that the Berghs Bachelor program would turn him into a communications professional within the fashion industry, perhaps as a planner. Along the way, he started to see things differently – copywriting seems more attractive now. At any rate, he's leaving the country just after Christmas, with San Francisco as the final destination.
When I had to choose a city for the Berghs Bachelor program, I chose San Francisco, for several reasons. In part because I think the pace offered in San Francisco will suit me better than Australia, and in part because the Academy of Art is supposed to be a truly excellent school. At first, I planned to study to become a planner, but during Brand X, I got to try my hand at copywriting, and I moved more and more away from the strategic towards the creative.
After a semester at Berghs, do you feel well prepared to go away?
I think so. In some ways I feel that the semester in Sweden was too short, as I fell in love with the school and enjoy the environment here. On the other hand, I feel that the tools I'll take away from here will suffice. My development here has been incredible, at a pace that I never thought possible. But now it will be thrilling to leave. My expectations are very high, of course; at the same time, I'm now used to the idea that I'll actually need to create a career all by myself, and that I'll be able to do this with the tools I'm taking with me from Berghs.
The great trip begins in early January, starting with a week or so in New York. On January 19, Tommy will touch down in San Francisco, and somewhere there he'll pitch his tent.
The idea is to find accommodation once I'm there. When I moved to London, that's how it was done – you stayed in a hostel for a few weeks, and then it fell into place. It's supposed to be more difficult in San Francisco. But the aim is to find a flat to share, for myself and some classmates. About 15–20 people in total from our class are going to San Francisco; we're planners, copywriters, art directors and new media designers. Our class is pretty mixed, and I think many of us don't plan to go straight back to Sweden afterwards.
What are your thoughts on the future?  Where do you think you'll end up after your studies?
My future is very… wide, if you can say that. I think I'll stay abroad; perhaps I'll end up in London or Paris, as I find the culture there more exciting and interesting than in Sweden. Fashion will probably always be a part of me, as an interest if nothing else, but it's possible that I'll set my aim on other things.
What are your thoughts on the future of the communications industry?
I've come to realize that the communications industry can be pretty simplistic at times. Many create just for the sake of creation, and they accept assignment after assignment just to make money on them. I don't think that's the future for the industry. In part I don't think it will be possible to earn very much money on it in the future, as there will be inflation in people like us, and in part, I think it will become increasingly important to have an agenda for your career. As a communications professional, you hold a lot of power, and I don't think everyone understands that power. Or they may understand it, but they don't use it for the greater good. I want to end up somewhere where I can work to bring about change. I want to get rid of the taboo on certain topics and drag them into the light. I hope my career will allow me the time to bring about change; there are so many things I want to change, things I find wrong, but there are also many things I think are right and want to preserve.
Are there any ethical agencies?
I'm not yet sure of that, but there are certainly many that should be more ethical.
The communications industry needs new voices, there is definitely room for them, but I think many people allow themselves to get stuck inside the communications industry box, without the strength to break free. Because it's difficult to achieve change, and it's difficult to be ethical at all times; it takes a lot of energy. And while I respect the people who can't manage it, I don't want to become one of them. I want to stand up for my morals. I often live by the motto "he who remains silent, consents," and I think it fits the communications industry. If you accept an assignment and work on it, and you know it's wrong, you are still part of creating the image that the unethical campaign in question is right. That's when your power comes into play. What you project onto the general public has consequences. Everything has consequences. I think we often forget that.
It sounds bleak.
Yes, but I think things will improve in the future. My generation, the ones who are studying right now, many of us don't allow Freudian slips. We question and problematize the role of the communicator and ask, "what did you mean by that?" I think this can change the entire industry.
What do you think will be your strongest memory from your time at Berghs?
Brand X, definitely. It was the most rewarding aspect of the entire semester, and it will probably stick with me for the rest of my life. I got to try my hand at copywriting for a while. I realized that I was good at it and actually changed directions after that. My team was excellent, and we kept a united voice throughout the project. We aimed to learn from each other, and we managed to bear that in mind during the entire process. I'm so proud of myself and my whole team.
Were you particularly inspired by any lecturer?
I'm going to remember the lecture by Christopher Waldekrantz at the Brand X kick-off. He became a major role model for me. It felt so safe to listen to a person who didn't really fit into the heteronormative communications industry tell us of his journey. He had a personal way of expressing himself, even for a large audience of two–three hundred persons. This is my journey, this is what made me into the person I am. Take care of that, as it will turn you into better people.
It's important to remember that you're not just a brand. Everyone here has their own brand, and Berghs is a brand in itself, but we often forget that there is a person behind the brand. If you let your personality be part of your brand, it can only lead to good things. If you try to suppress it, to keep up some kind of professional image towards the surrounding world, you'll fail after a while. I've tried to do that for ages, but now I realize that it was the most boring time of my life. The façade of a person who wasn't really me.
This is the last day with your class at Berghs, how does that make you feel?
Not that much, actually, as I feel like we'll all stay in touch and hear from each other, anyway. Berghs is not an ordinary school; those who are in my class are people I'll work with in the future. It's as simple as that. You disappear only to return, in some way.