Why "good at social media" isn't enough to survive the digital shift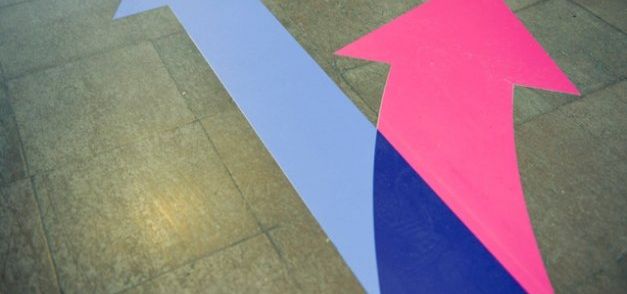 Here Michael Kazarnowicz, Course Director of the online course Interactive Communication in English at Berghs, shares his insights why being good communicating through Facebook is not the answer to how to survive the digital shift.
Skrivet av Berghs School of Communication
Oktober 1, 2013
A while ago I read Brian Solis' book "Business as usual" (on a side note: a book I strongly recommend reading) where he talks about "Zero Moment Of Truth", or ZMOT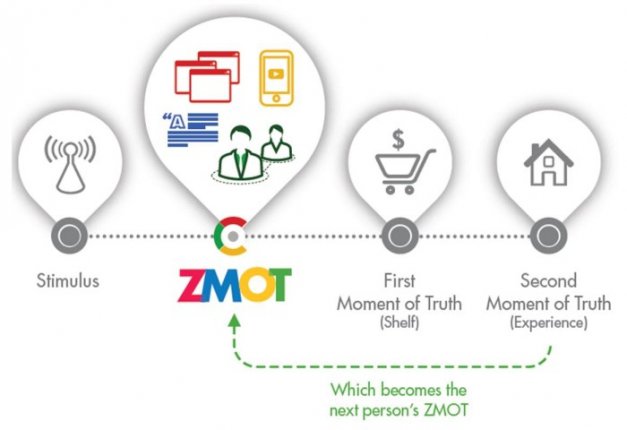 In short, it goes like this: Before the digital age, you could design the moment when potential customers first met your products or services. Be it the packaging on the shelf, or when a customer walks into your office. It's what Procter & Gamble call "First Moment Of Truth" or FMOT. Today, that first moment has a moment before it: Zero Moment Of Truth (ZMOT). That's when someone who needs your products or services googles you, or asks on Twitter about what people think about you, or posts on Facebook … and so on. The answers and reactions affect whether the potential customer will make it to the FMOT and on to becoming an actual customer, thus reaching the Second Moment Of Truth, SMOT  (which is when a person experiences your product or service).
From the moment someone has had a Zero Moment Of Truth about you, they may become someone else's Zero Moment Of Truth. Even if this person has never used your services or products – because the First Moment Of Truth was bad, or because someone they trust advised against using your products or services during their own Zero Moment Of Truth – they will relay that information when the next person asks.
This means that in order to fully thrive and survive, companies have to become proactive. They have to start designing the customer journey in a way so that each step is delightful, simple, shareable. The experience is everything. Unfortunately, most companies today that are "good at social media" are reactive: instead of creating a superior experience, they patch the flaws in their experience by superior support on Facebook, Twitter and other social platforms.. I love how Brian Solis puts this into words, and it turns out life directs itself: just a couple days after reading it, I got a practical example of what it looks like:
A while before reading the book, I got a gift voucher for a night at Scandic Hotels, a chain of hotels in northern Europe. As my boyfriend was moving from the US to Copenhagen the following week, I thought that it's a perfect time to use the voucher: we'll have a weekend at a hotel in Copenhagen. No worries about cleaning, making the bed or fixing breakfast – and most important, time for ourselves.
I went to their site and tried booking a room using the voucher, but any attempt at searching for hotel rooms yielded a page without any results. I then went to their Facebook Page and asked how I go about using the voucher. Two of my digital friends work at Scandic, so I knew that the organization was good at social media, but they managed exceed my (high) expectations by actually answering my question at 11 PM on a Thursday night. The support was great, and when we took it to e-mail they kept answering promptly and helpfully. The problem was that it wasn't very clear which of the numbers and codes printed on the voucher you were supposed to enter, and the one you were supposed to enter was very easy to misread.
Here's the first thing that was badly designed
Instead of having gift vouchers that are very clear and simple to use (designed experience, proactive) I had to contact Scandic to find out which code to type in (reactive). I was also told that since I wanted to use the voucher for one night, and pay for one night, I had to make two separate reservations.
Here's the second thing that's badly designed:
Instead of making it easy for me to spend more money at one additional night, Scandic was making me jump through hoops. Add to that the uncertainty about whether I get the same room for both nights – what if we had to move rooms? Still, the lack of proactive experience designed was at this point compensated by the reactive and helpful customer service.
Now that I knew which code to use, and knew I had to make two separate reservations. I started with the one that I would pay for directly, saving the voucher for last. There are at least 8 Scandic Hotels in the Copenhagen region. Four in the city, and four outside (like the one at the airport)
Search Results: Copenhagen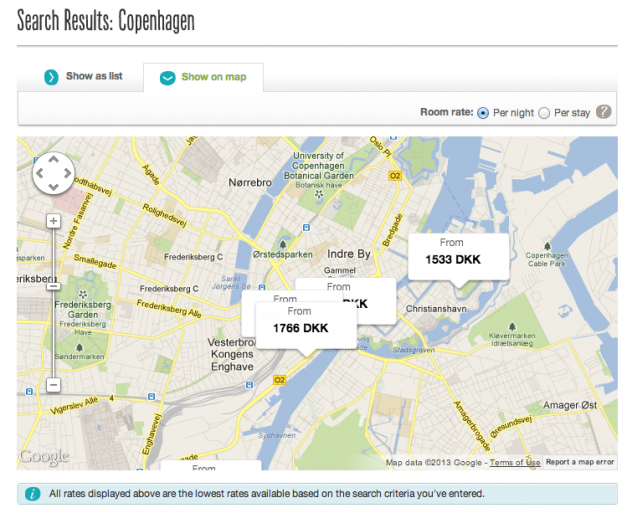 Searching for available rooms, paying with cash, shows available rooms in all central hotels
I settled for Scandic Palace Hotel which had a range of rooms available. I was looking for a weekend getaway, and I was prepared to pay extra for a nicer  room. At this point, I was still not entirely sure how the voucher works, so I opened a new tab and did a search for rooms that could be paid with the voucher. Suddenly, I only saw hotels far outside the city center.  The hotel by the airport was the closest one I could choose. (Note: this screenshot was taken at a later time, when I did the search when trying to make the reservation, the 'price' was 1 voucher.)
Search Results: Copenhagen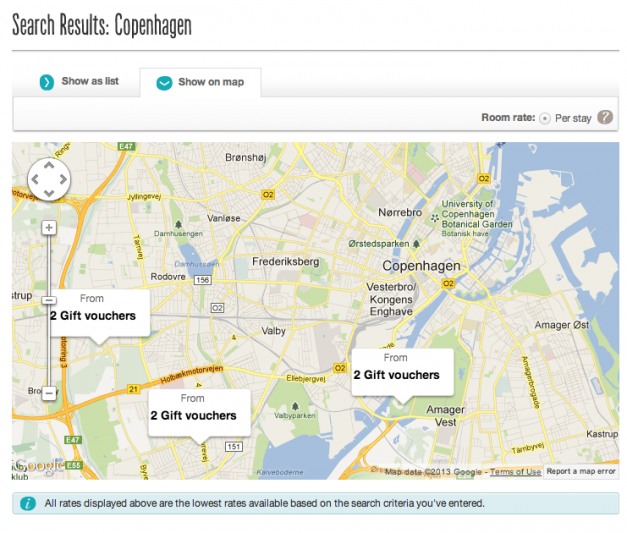 Searching for available rooms, with a gift voucher. All of a sudden, no central hotels have rooms (at the time I was trying to make the reservation, the 'price' was 1 gift voucher)
It seemed that if I chose to pay cash, there was a range of rooms available in central Copenhagen. When I tried to use a gift voucher, suddenly only non-central hotel were available. I e-mailed customer service back asking how this can be, offering to add cash to the voucher value if that was the problem.
Their reply:
"In your case I'm afraid it's related to the search date, which is next weekend. Some of our hotels have to close gift voucher rates and other special rates when you're booking a room close to the arrival date, and this is due to how full the hotel is, price policies etc. If you were to book in two weeks you'd find availability at more central hotels, but I do understand that your travel dates might not be flexible."
Here's the third thing that's badly designed
Not honoring your own "gift vouchers". Scandic had already been paid for the gift voucher, but treated it as some sort of second grade payment option. Somewhere along the way when they designed this process (or rather, when this process happened as I believe it wasn't designed), they decided that they own gift vouchers are not as valuable as cash payment. This makes Scandic look like cheap and greedy. And here's where the reactive customer support starts failing, because as a customer I don't care about what your excuse is. I just care about the fact that I feel cheated by you.
Here's the fourth thing that's badly designed
Designing computer systems and reservations processes that are so rigid that instead of upselling to a willing customer, you turn the customer away. I do understand that gift vouchers have a certain value, even though mine only said "Gift voucher for one overnight stay, valid at all Scandic Hotels. Valid Friday and Saturday nights." – there's nothing about a certain value on it. I also understand that the rooms available might be more expensive than what the voucher is worth. What I do not understand is why I am unable to add more cash to be able to book the rooms I am certain are available.
Here's the lesson
You might be great at reacting in social media, with prompt and courteous replies on Facebook and Twitter and a customer support that's on with a smile 24/7. But that's not enough to survive. Having a great customer service and a badly designed customer experience means that you're always being reactive instead of proactive. It's like having a rusty old airplane, but great parachutes. Being reactive only goes so far; customers will in the end choose the option with the delightful experience, not the option with the bad experience and the delightful customer service. Being proactive means your current customers will push your future customers towards you in their Zero Moments Of Truth. Being reactive means that your customers become someone else's customers.
I ended up using Hotels.com to find another hotel. I almost booked with Marriott, but realized they charge 150 DKK ($25) per day for internet. This is another thing that's poorly designed: "our customers can obviously pay our high rates, so let's charge an unreasonably high price for something they really need so that our revenues increase". When an experience is clearly not created with a mutual benefit in mind, you're likely to look more like Ryan Air than an upscale hotel.
So I ended up choosing Radisson Blu. So next time someone asks me about where to stay in Copenhagen, there's a chance I will say "I stayed at Radisson Blu Scandinavia, it was awesome!" – because unlike Scandic and Marriot, nothing so far has scared me from experiencing Radisson's Second Moment Of Truth. The best solution for this is for organizations to appoint a "User Experience Manager", someone who has a firm knowledge of digital and has connections with all departments: supports, product/service development, marketing, HR – and also mandate to set goals for the managers of those departments. This is part of why Apple were so tremendously successful, because Steve Jobs was just that. Today, the persons best geared for that role are marketing managers with strong digital skills, or community managers who apart from digital skills also have the connections with different departments in place.
Would you like to know more? Brian Solis has put up a deck with the insights from the book on Slideshare. You can also sign up for the course Interactive Communication, an 8 week online course where we cover a lot of the things you need to know to create proactive experiences.
*****
Michael Kazarnowicz is a freelance digital strategist and Digital McGyver, who has spent more than half of his life working with the Internet as a tool. He has a background as learning facilitator at Hyper Island, global social media manager at colorful underwear brand Björn Borg and content strategist at digital magazine publication tool Mag+. He is also the course director of Interactive Communication in English at Berghs – an online course that starts every spring and fall.
Interested in knowing more about Michael's course at Berghs? Please have a look here!