"We look forward to seeing how the students challenge us"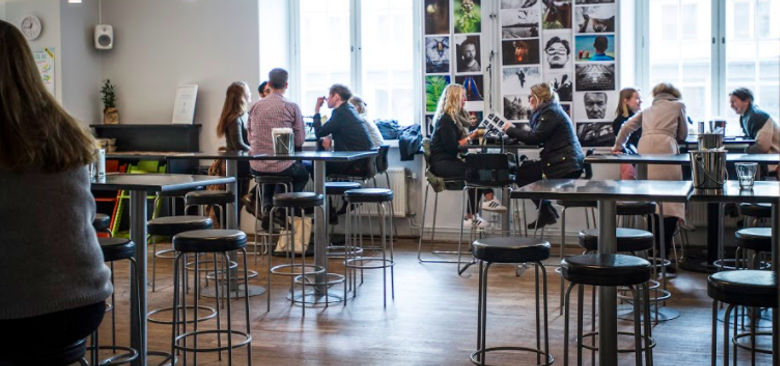 The students of Berghs Bachelor class are half way through their first and only semester at Berghs. They just started a course developed around one big case that provides the students with a great opportunity and real client and brief, given to the students by the internationally acclaimed agency McCann.
Skrivet av Berghs School of Communication
Mars 17, 2017
The students of the Berghs Bachelor class are now half way through their first and only semester at Berghs and have just started the course Marketing Communication. This particular course is developed around one big case, providing the students a big opportunity with a real client and brief given to the students by the internationally acclaimed agency, McCann.
In the middle of March, the class received the brief from McCann, issued to them by former student Christopher Lawrence, who studied the Online Certificate at Berghs during 2014-2015. Today, Christopher is a Senior Digital Strategist at McCann here in Stockholm. These are Christopher's words about the brief handed to the class and his own expectations:
Hello Christopher! As a former student at Berghs, can you describe what brought you back to the school yesterday?
When I graduated from the Online Certificate program in 2015, we all had time to speak of our goals with our course instructors and fellow students. I distinctly remember saying out loud that a goal of mine was to go from student to course instructor before my 30th birthday. So naturally, when I was approached with the opportunity to partake in the Berghs Bachelor program and issue the students their first creative brief, I didn't flinch at hopping on-board.
Not only is it an honor, but also a real privilege considering that Berghs is renowned for the top tier talent that it ushers into the industry year after year.
Take part in the next Berghs Bachelor class!
Berghs Bachelor is an international study program designed for young students who want to pursue an international career in communication.
Read more
Tell us about the brief that the class received! Who is the real client, and what is expected of the class?
The client for this brief is our very own client, Viking Line. I feel particularly excited about being able to bring Viking Line to the students, as do my colleagues here at McCann and our friends at Viking Line. With this brand, there's a lot of room for innovative, outside-the-box concepts that transcend boarders and cultures – as it's a brand that connects multiple countries and people from many different backgrounds.
We're looking forward to learning how the students approached their brief, phase-by-phase. Berghs does a very good job ensuring that each step is taken into account: everything from research and competitive analysis, to laying the groundwork with a solid strategy & driving it home with the creative concept.
We look forward to seeing how the students challenge us with their ideas and approaches.
What was the reaction from the client when you presented the idea to let Berghs' students work with their brand?
The notion of utilizing Viking Line as the client for this brief at Berghs was received with open arms and nothing but enthusiasm as well as gratitude. We have great clients here at McCann, it goes without saying, but Viking Line just felt like a fantastic fit for this one. Our team internally as well as the client are excited, grateful and think it's a great opportunity for all involved.
The students will work on this case for a month and a half. What are your expectations of the result you will see during the presentation in the end of April?
To be honest, I'm not so hung up on whether or not the students drop the next best idea since sliced bread when they hit the pitch; that's not what this is about at all. In my eyes, this is about seeing that the students put in the work; that they play off of the unique talents within their groups and don't forget that at the end of the day, it's about building brand, driving revenue and lending a competitive edge to your client.
These kinds of briefs – where agency, client & schools come together – afford us all the opportunity to stretch our minds. Judging by the questions the students have been hitting me with, I'm confident we're going to see some great examples of thinking big & thinking differently come presentation time.