Berghs students win the first part of worldwide competition Young Glory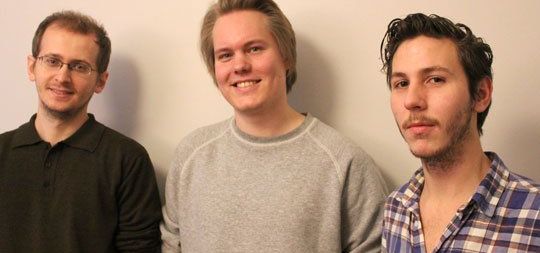 Young Glory is the name of a brand new worldwide competition to reward creative consistency. It includes 8 months, 8 briefs and 8 big name judges. The first brief was published in October and proud winners is a team of students from the diploma program Interactive Communication at Berghs.
Skrivet av Berghs School of Communication
December 12, 2011
Each month between October and May, a different industry leader sets and judges his or her own brief in the competition Young Glory. Participants then have one month to respond to each brief. Students and Professionals under 30 compete monthly in separate categories to win Gold, Silver, Bronze or Finalist spots. A point system rewards the teams for every accolade they win over the 8 rounds, and at the end, the industry's most consistent creative talent will be crowned. The first brief, Keep The World Cool, was released on October 1 and the judge was Rei Inamoto, Chief Creative Officer AKQA.
Proud winners of the first round are Berghs Interactive Communication students Thomas Samsioe, Ludvig Sandström and Mate Nagy, who entered the competition with their minds set on learning and having fun. That they would win the first competition they entered never really crossed their minds.
What did you think when you first read the brief? 
Thomas: The brief was about changing people's behaviour in their every day life in an environmental friendly way, to turn peoples actions into habits.
Ludvig: At first we tried many different tracks. We wanted to use a situation that is really common, something that everyone could do and not force a lot of effort.
Mate: So we basically looked for an every day situation to use.
Thomas: We discussed coffee cups, if you could save energy around the concept of a coffee cup since everybody drinks coffee. That track lead us to our solution, which is to use the bike rental system in Stockholm. We figured that if we mounted a battery and a generator onto the bikes, people commuting to work would actually generate energy. When they arrive to their destinations and put the bike back in the stand, the energy collected goes into the system that light up the streets. This way everybody can watch how much the Stockholm inhabitants generate every day.
Ludvig: It all came out of the insight that we all produce a lot of energy every day that is not taken care of.
Mate: We looked for a situation that has the biggest impact and came to the conclusion that riding a bike was a great example.
It sounds like there was some research to be done here?
Ludvig: Yes, we did research on how many rental bikes that Stockholm city provides, and we almost became electricians there for a while. What kind of generators were needed, how much energy a bike ride generates and so forth.
Thomas: We found out that one hour bike riding creates enough energy to light up a street lamp for one hour.
How did you manage to find the time to work with this outside of your busy school schedule?
Mate: It's hard to manage working with this and the school. There has been a lot of weekends.
Ludvig: This isn't even our second priority. We have lectures and different projects within school, and then somewhere in between all that you have to fit in the competition, so it's kind of hectic. But at the same time, it's really fun and a good learning experience.
Did you have winning in mind when entering this competition?
Mate: Basically, we wanted to have 8 case films in the end of the year, hopefully good ones too. If it comes with points or medals it's just an extra bonus to us.
Ludvig: What I like about this competition is that it is 8 briefs and you need to show consistency. You can't only produce one good thing; you need to produce quality stuff throughout all the 8 months. When we entered, we didn't know the quality of the other participants. I tried not to think about it too much and didn't really care about the outcome.
Thomas: We were very happy with the idea that we won with; I think it's a good answer to the brief.
M: Also it was one of the first case films that we did, so we are really happy with the results of the first brief.
Can you tell us something that changed in the way you worked with the second brief from the first?
Ludvig: Time management got a lot better from the first to the second. During the work with the first brief we sat down a lot, did the research together in the group and tried to come up with stuff when we were together. In the second one we worked more individually and it was easier to fit in all the work.
Mate: The competition is really diverse; the briefs have been really different from eachother. Working on these briefs, these moments are my favourite ones. We have a lot of fun every time. You can feel that on the results as well, when you do something with passion, something fun.
In about 6 months, you'll all graduate from Berghs. What are your plans for the future?
Ludvig: I want to go abroad, preferably to the USA and try to work and live there for a while. I really like the planning aspect of the projects and working with target groups, doing research and stuff like that.
Thomas: I want to work in Stockholm at an agency, to keep learning and finding out what I want to do. Art direction is what I'm really interested in right now, and ideas and concepts.
Mate: I'll see what the future brings for me. I came here to Berghs from Hungary to learn more about this business and I think I'm in the best place to develop. I'm really interested in interactive solutions and I'd like to work with concepts and copywriting.
Read more about the competition at www.youngglory.com. Watch the solution Ride for Light below: