Berghs Studio has a new Creative Director – say hi to Adam Horne!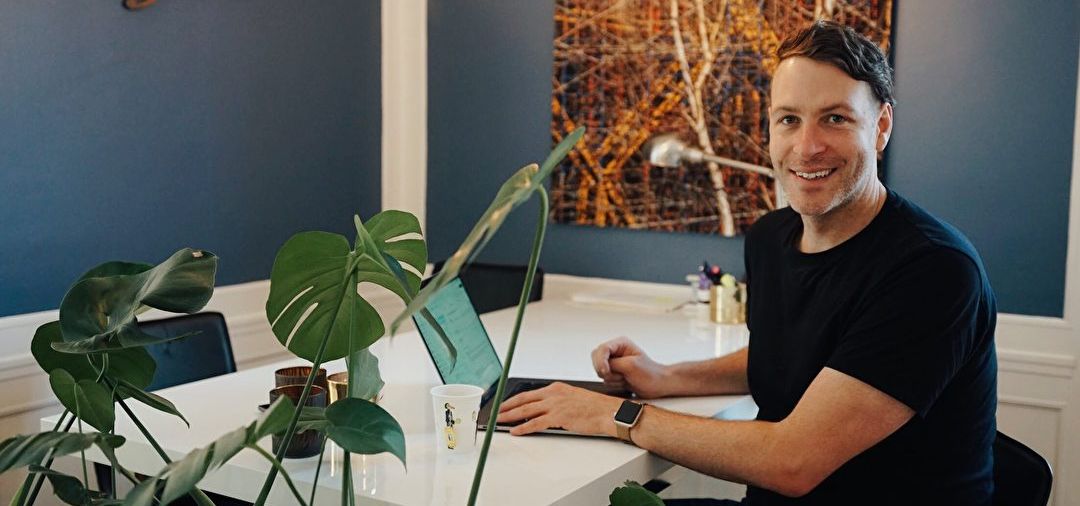 Berghs Studio has a new Creative Director. He goes by the name Adam Horne and flew in from Australia to bring Berghs Studio to new heights. We sat down for a catch up to see how he settles in.
Skrivet av David Lindh
Januari 15, 2019
Hi Adam! Who are you, professionally?
I am a senior digital creative with 10+ years of experience and I do it all because I'm actually fascinated by how people tick. I want to know how everything works. Why something's funnier in Finland than in France. Why some people love sudoku while others share cat videos.
And privately?
I usually say that when I'm not working I enjoy cross-country shopping, deep-sea reading, downhill mountain painting, long-distance sculpture. But that's because I'm a pretty boring person. But if I'm honest, I'm usually hanging out with my amazing girlfriend (a jewelry designer at H&M), or I'm training (slowly) for my 10th marathon, or learning to ice-skate one bruise at a time…
So Adam, why is there an Australian running Berghs Studio?
Bergh's really has established itself as the world's leading communication school over the last decade. And I think there is a real effort to make the perspective more global. I guess a part of that is bringing in an Australian with lots of experience working in Asian markets, and European markets, as well as executing global campaigns. I also lectured a lot in design and communication in Australia and France – something I have always loved. So there is lots of reasons why it's a good fit.
I have always been a big believer in closely linking thinking and doing. I think the studio has a really valuable role to play in introducing students into real projects with real clients in a way that's supporting and that develops good professional habits.
How do you think education has changed in 20 years?
20 years ago there was lots of web design in design education. But social networks, smartphones, fake news, blogging, weren't things yet. Design thinking was a process that wasn't clearly articulated. So of course, the way people and organisations and brands have changed their mode of communication. And even what was web design has now splintered into a multitude of disciplines – even at the education level.
I do think there is a risk of specializing skills down too far. I'm a big fan of generalists. I think if you make communications your job, you should be able to execute it in lots of ways. How should be able to write well. You should be able to brief a film director at a high level. You should be able to write a little bit. And know why a layout is or isn't communicating.
The things that don't change are the underlying human needs and the psychology of people. That evolves very slowly. And I'm very excited by developments in behavioural psychology. We're getting more of those insights into all out programs at Berghs and that is very useful. I am really happy about that. So what has changed? Everything and nothing!
What kind of projects does Berghs studio say yes to?
Good question. There are three things a project needs to satisfy for it to be a Berghs Studio project.
Firstly, it needs to be something that our students really contribute to. They're great creative and strategic thinkers. The studio's all about growing students into professionals by growing ideas in the real world. Secondly, it needs to align to our beliefs. We have a good sense about the ethics of what we do. We're all about positive change. We want to work on things that make the world kinder, more equal, more fun, and more environmentally friendly.
Last but not least, we need to collaborate with brands who are willing to push themselves creatively. We're the best communication school in the world. If you're not feeling brave we can't help you. But it's also our job to highlight the value of great thinking, and to make it as comfortable as possible for our partners.
Get in touch with Berghs Studio!
What happens when you connect agencies, brands and young talents? Magic. Berghs Studio offers innovative solutions and helps you to make a difference through communication.
Read more
What advice do you give young creatives?
Listen to your curiosity. I think the best creatives are all insanely curious. They want to know a little bit about everything. They are the ones always on Wikipedia and Youtube. The other thing is to be patient. The reality is you never finish learning, and you can't expect a school to be your magic ticket to being a great communicator. Berghs can give you the tools to make you a good learned, and you sure will get a whole lot of great professional perspectives. Plus your peers are world class. That stuff we can help with.
But you really are going to fail a lot. So much of being a creative is dealing with failing. You need to be comfortable enough to deal with it. For much of any project your ideas or your execution is not right. Then you need to feel confident enough that you can work it out. That you have been I this position before and you have won in the end. Lots of that is listening to other people at the right time, making your own decisions at the right time, and knowing the moment you're on the right track. That takes a long time.
So get good, smart, supportive friends. Get good habits. And start a long, crazy and fun journey.
Want to get in touch with Adam or Berghs Studio? Send an email to adam.horne@berghs.se.