"I knew in my bones that Berghs was the right choice"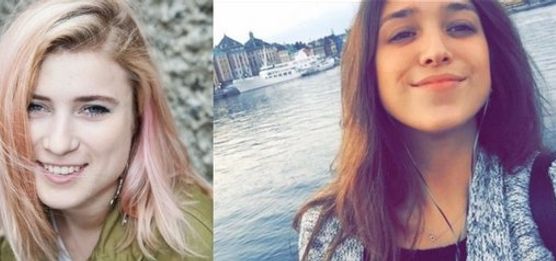 French students Charlotte Waldelof and Stephanie Picq were both impressed by how the teachers at Berghs empowered them to get up on stage to present projects and to believe in their work. They wrapped up their semester at Berghs in Stockholm with a lot of new insights.
Skrivet av Berghs School of Communication
Juni 20, 2017
Five French students spent their fall semester 2016 as exchange students at Berghs in Stockholm. We asked two of them, Charlotte Waldelof (left on the picture above) and Stephanie Picq (right), about their experiences and the differences between studying in Sweden and France.
Can you tell us a little bit about yourself? Your age, earlier studies, background?
Stephanie: My name is Stephanie and I am 24. I am French, and half Brazilian from my mother's side. I have always been drawn to communication and visuals.
Charlotte: I'm a 21 year old student from EFAP in Paris, and I studied copywriting in the Bachelor program. I am always a bit jet-lagged having travelled around the world and lived in Luxembourg, New York, Paris and Tokyo. Being a freak of fonts, layouts and fashion archives, I decided to study communication to be able to work in an industry I love; fashion. I have already done two internships in fashion press offices in Paris, as well as in London and being in my fourth and final year of studies in France, I am currently doing my final internship semester for my degree.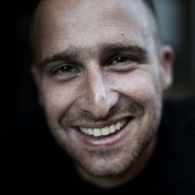 Take a study-abroad semester at Berghs!
Berghs Advanced is an intensive study abroad semester for international students. Two possible tracks, packed with practical communication projects and real life cases.
Marco Ortolani
Read more and apply
What made you decide to apply to Berghs in the first place?
Stephanie: I knew I wanted to go abroad, but I wasn't sure where. So I started going through the options that my school in Paris offered, and Berghs stood out. I knew about Berghs' reputation, renowned for its quality studies. I am usually a beach person, but for some reason I was so excited about this city despite the usually cold weather! It's as if I knew in my bones that it was the right choice. And I didn't regret it! In fact, we were even lucky regarding the weather. We've had nice sunny days until late September/mid-October, and we've had a lot of snow in early November — which from what I've heard is not usual. Lesson learned: always trust your gut!
Charlotte: Berghs is one of the most prestigious schools in the world. It has a very good reputation and it has won awards throughout the years. For all these reasons, Berghs was a pretty obvious choice for me.
– Stockholm is a vibrant and dynamic city that is resourceful for any student aspiring to work in fashion, especially with Swedish design, architecture, and anything related to fashion.
Do you remember and can you describe your first impressions of Berghs after the first week at the school («intro week»)?
Stephanie: The first thing that baffled me was the beauty of the school and its design. It's so refreshing to be at school and see so much art and creativity! Then I got to know the teachers and students, and it was honestly baffling. The teachers were so welcoming and kind, it was truly delightful. The first week was really about breaking the ice and we worked in groups since the beginning, which was great to get to know each other.
Charlotte: My first day at Berghs was not what I thought it would be like. In Paris, I have been used to people being snob and quite mean and smoking hundreds of cigarettes with a judging look on their faces. Being used to these kinds of encounters, I was very surprised to be warmly welcomed by the students and the teachers around a cup of coffee. During the whole week we did fun exercises to get to know each other, and it was a very nice way to make friends and chat with the teachers.
You are heading back to France now, what are your feelings about that?
Stephanie: I have mixed feelings. Of course I miss my family and friends, and even my favourite places. But I'm sad that I'm leaving and I definitely want to come back someday. My experience with Sweden is not over yet!
Charlotte: I am very excited to head back to Paris, as I am going back there to do my last internship and at the same time I am quite nervous because this means I'll soon be a full-time working girl! I am also a bit sad to be leaving the friends I made here (as well as any kind of pastry containing cinnamon).
Can you describe the semester you spent at Berghs with one sentence?
Stephanie: Of course not — one sentence is so short for everything I've lived! I've discovered not only a new way of learning, but also a new city, new people… And all of these were amazing.
Charlotte: I had a fun and exciting adventure in a beautiful and creative setting.
Can you share a specific moment during this semester that made you reach a big realisation/insight?
Stephanie: I had always known that body language and tone (basically, non-verbal communication) was the most important part of communication. But spending three months at Berghs where the teachers really empower you to go on stage and talk about your project and why you believe in it, really made it obvious for me. I realised that the most important thing while doing a presentation is to believe in yourself and believe in your project. I saw some people with amazing works that didn't highlight it enough, and I've seen them at the end of the semester doing such a better job at it that their growth was something wonderful to witness.
Charlotte: This happened during one of the first weeks at Berghs. We were working on a project with my classmates, and one of our teachers passed by us and just told us to «have fun!». I tried my best to that during the whole semester and I think this is what made my stay here so much better. Berghs is a great school to learn theoretical matters but also learn more about yourself and how to work with people. But more than that; at Berghs we have fun!
Can you compare the studying model at Berghs to the way you studied before, in France? Which are the main differences?
Stephanie: Yes, it's very different indeed. First the teachers are much more strict in France, and will mostly tell you what is wrong with your work, while Swedish teachers also tell you everything that's good about it and really value it. Second, we do a lot of group work here. We do many group works too in France, but still not as much. This really showcases the importance of a group that fits well together and not just that has good elements. Also, the classes here are much more «practical» than theoretical. In a nutshell, the three main differences are the practical/theoretical aspect, the positivity of the teachers, and the group work.
Charlotte: Berghs is very different to any school in France because it focuses a lot on the well-being and social aspect of the students. It offers courses which helps students do awesome presentations in front of people. I think this is really great because, even for good public speakers, it is always nice to have all of the tools. Berghs studying model relies a lot more on creativity and personality than France. In France we study communication in a very more theoretical way, and we do not have as much group projects.