Over 3 Million People Kept The Secret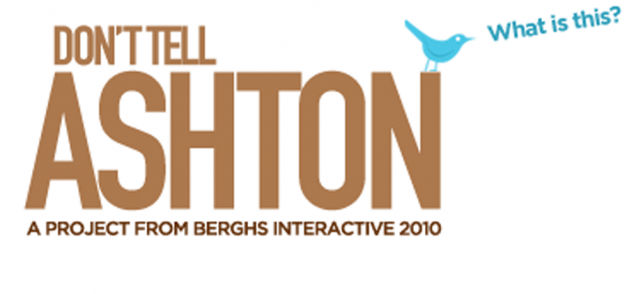 The world's first Twitter artwork has now reached Ashton Kutcher. The Interactive Communication class of Berghs School of Communication met Ashton while in LA. Not long after he posted the tweet "Why am I the last one to find out about everything .... http://brizzly.com/pic/2PE5".
Skrivet av Berghs School of Communication
Maj 6, 2011
The project started as a platform for the students in the Interactive Communication class where they, apart from presenting their portfolios, chose to demonstrate their uniqueness by exploring how the digital logics make relations and networks replacing money as currency. This comes clear as ever in the Don't Tell Ashton-project.
By re-tweeting the message "I'm on the worlds first artwork made by Twitter users. Just #donttellashton", the tweeter's profile picture appeared on the artwork. The Twitter-user's number of followers on Twitter determined the size of the picture. The only person with enough followers on Twitter to conquer the entire artwork was, at the time, Ashton Kutcher, hence the project name.
Nobody did tell Ashton and the artwork was filled within three days. The project reached over three million people in 144 countries.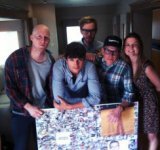 This is what it looked like when they delivered the artwork to Ashton.
"Don't tell Ashton is a project that delivers exactly what our students are great at. They explore the digital logics and use creativity and consumer insights to deliver solution that are engaging", says Peter Kamstedt, Program Director Interactive Communication at Berghs.
The Swedish artist Jon Holm made the digital artwork into a real piece of art. Now Ashton has received the artwork. The delivery could be followed at http://donttellashton.tumblr.com/ .
Creativity Online announced the Berghs students' project as No. 1.
Interactive Communication is a one-year diploma program at Berghs in which the students work on digital and innovative solutions for companies and organisations.
"Don't Tell Ashton is the perfect ending to a very successful year with gold pen in One Show where our students are chased by some of the best agencies. Now we're hoping to recruit a whole new class of students who will leave even more of a mark."
Parts of the newly graduated students – work who are now looking for jobs all over the world – can be found here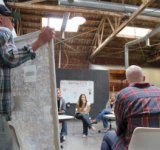 Many people were intersted in knowing more about the Berghs students' work.