Pierre Jorge Gonzalez: "It's about the layers that are under and above"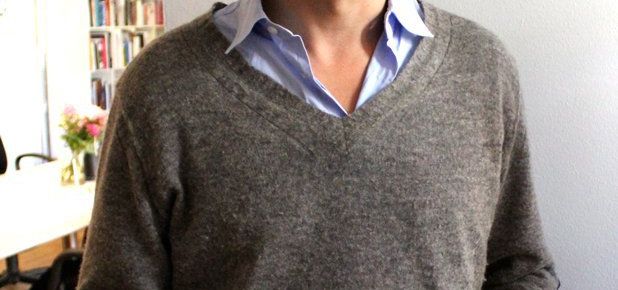 This week, Pierre Jorge Gonzales, one half of the much-acclaimed Berlin based architect duo GonzalesHaase, visited Berghs' graphic design students.
Skrivet av Berghs School of Communication
Oktober 6, 2011
Having recently designed a Weekday concept store in Berlin, Pierre was the right person speaking for the right group of students, especially since their latest mission is to motion graphic idents for Weekday.  Course director Pål Pettersson explains the project:
– In the aim to build the Motion Design course with a client pitch, this project is great. The Weekday concept store in Berlin is filled with screens and will probably show the students work later this year. It´s a real brief and a real pitch that challenges the students.
Under these circumstances there couldn't be a better person to invite for an inspirational lecture than Pierre Jorge Gonzales, one half of the Berlin based architect duo GonzalesHaase. Originally from Spain but raised in France, Pierre found his business partner Judith Haase in Berlin, which was where they founded their office, specialized in art spaces. By extension the duo has also worked with brands and stores, among them many Swedish such as Acne and Weekday.
– We have a long history with Swedish people. They seem to like our work and we like to work with them, Pierre explains. We find they way Swedes are generally very structured interesting.
At Berghs, Pierre held a lecture and workshop for the graphic design students about the process of creating new design and the question of what a designer really is in today's climate.
– My approach is not directly about the brand but the process of getting into a brand, not in terms of marketing but by asking questions about responsibility. What is your responsibility, as a designer? It is to be able to answer a question given by a client, of course, but also to give something else, another layer. As an artist you deal with that. For instance, if an artist gets an order from a city for an installation at one spot the artist will bring that, but the artist will also bring a complexity that is a reflection of the world, his or her own dimension.
As designers and architects, do you have a trademark? Is there any way of knowing that you put your hands on a store, for example?
Of course there are many details. One thing is how to organize the things in the store, but mostly it's how we manage the lightening. To us the light of a space is an essential element of the space. We reflect on the colour of light, the quantity, and how this light is bringing the space – not just the goods – into a space. Also we never really show technical dimensions, the technique is always set back in our work. Our ceilings, for example, are never a technical layer but a part of the space, as a box, as volume.
If you were to give one general advice to the graphic design students in their work of designing space, what would that be?
To think about all layers that are given to a client. When they are to build up a project they build it for the client, but also for the customer and for themselves. This is a very important dimension. It's about the layers that are under and above. Each project can have content, a story, a culture, things that are not on the brief given to them. This is what makes something strong.