Robert Bau: "Design equals profitability"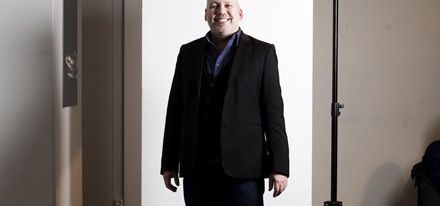 Meet Robert Bau, a man with many irons in the fire and a clear objective: to increase people's awareness of why design management is a decisive contribution to a company's profitability. As the person in charge of Berghs' day course Executive Design Management, he should know.
Skrivet av Berghs School of Communication
Februari 4, 2012
Robert Bau was raised in the United States, has lived in Sweden for many years, and now spends his time commuting between Stockholm and London, where he lives in bucolic settings not far from the city. After having worked for many years as a salaried consultant and project manager, Bau in 2005 became an independent strategist and founded his own company, Mind Your Table Manners. Today he works part time for Ergonomidesign but also consults, coaches, lectures and writes.
"I am a senior strategist specializing in branding and innovation and design issues," says Bau. "I serve as a coach to creative agencies and a mentor to creative entrepreneurs and entrepreneurial creatives." Since 2006 Bau also teaches at Berghs, an assignment very close to his heart. "In addition to Berghs I teach at Hyper Island, Konstfack, Södertörn College, the Business & Design Lab in Gothenburg and the Design College in Umeå, but I must say that my heart beats especially for Berghs."
"My calling is to be an ambassador for the cause of design, and I like to say that it's a bit like teaching a language course. The course attracts many skilled people ranging from business developers to architects who all can make themselves fairly well understood but now wish to speak fluently. Good design is, of course, the goal and the result, but for me the actual process is even more important. Also, the very word design can be misleading, since the task at hand is not just to learn to prettify surfaces or functions. Design, to me – design thinking – is essentially about how to strategically help companies become more efficient, save costs and increase productivity. It concerns processes that are seriously thought through rather than being holed up in one's studio perfecting sketches. Good design equals profitability, plain and simple."
The course Design Management consists of lectures, workshops, assignments and projects with guest lecturers from the industry. The course's three themes are: 1) Branding, i.e. how to strategically help companies build their brands through design, designers and design thinking; 2) Innovation, i.e. how design can contribute to the branding process, and how strategic design innovation can help companies prosper; and 3) Management, i.e. how to cut costs, increase productivity and become more efficient through smart design and design thinking – plus a general exploration of the deepening relationship between design, productivity and sustainability.
"My task is to get the students to take that next creative step, and this is tremendously stimulating to me. And I know that at the same time I help to strengthen the design industry by turning my students into its new ambassadors. For myself, teaching is also an opportunity to articulate my thoughts and to test them at large. The course is like a dynamic feedback loop with colleagues from different fields, and this helps me sharpen my consultation skills. During this past spring I've seen all of Berghs immersed in the concept of sustainability, which has been the overriding theme of the students' final projects. The three most discussed concepts in design currently are 'eco-iconic,' 'eco-embedded' and 'eco-boosters'," says Bau as the photographer arrives to take his picture.  Robert Bau hurries off and I've learned that 'design equals profitability,' so now I know for sure.