Studentcase: hi.fr.us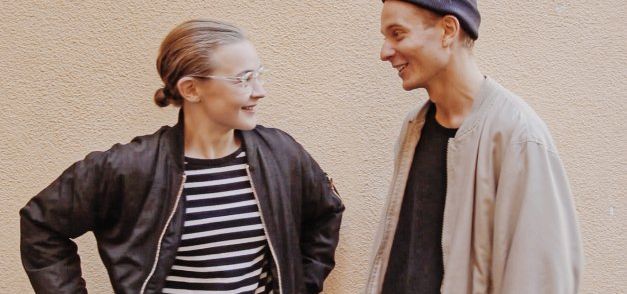 Meet Evelina Rönnung and Hugo Wallmo, two advertising students at Berghs School of Communication. When the time came for them to design their portfolio, they decided to take a different approach and make an Instagram account instead of a traditional website. The hi.fr.us Instagram account shows of their work in a creative and original way and has been an instant success.
Skrivet av Berghs School of Communication
November 5, 2015
1. How did you come up with the idea to make the hi.fr.us Instagram-account?
First of all, we had two awesome lecturers, Mikael Lundin and Petter Silfver who understood how much time and effort it takes to create an interesting and good portfolio, therefore they gave us two months dedicated to this work. With that amount of time at our disposal we realized we could do something different and challenge the conventional portfolio format. It was time to seek internships and since we are not the only ones to do so, anything that can catch attention is of course positive. Since Instagram is an accessible platform for many, it also increases the opportunity for more people to discover our work.
2. What has the response to the account been?
Beyond all expectations, and we really didn't expect anything. Advertising portfolios is aimed at a fairly narrow target group of creative directors, therefore it has been extra fun that the account has reached broader. Even our moms have shown interest, which is a proof that if you put the receiver in the first place, it will be engaging.
3. What do you hope to accomplish with the account?
The account is designed as a internship application, so the obvious goal is to land an awesome internship.
Then we'll have to see what happens – we have noticed that this type of solution is relatively unexplored at the moment, but it will pop up a similar ideas further on. Creative solutions within the constraints of social media will only get bigger, therefore the life span of this particular project is not that long.
4. Can you tell us a bit more about the Spotify campaign?
The idea was born when we were out dancing. The song "Smack my bitch up" started playing. It was not until the song was over we realized what the hell we had sung along to. This led to a discussion about how much misogynist crap one can hide in a song as long as it is catchy. When you encountered a problem in real life, it's easier to find a relevant solution. So with that experience, we created "Stop the Beat". A Spotify campaign where users during the International Women's Day can inform each other about what they are actually listening to.
5. Was it hard to design/layout the account?
No, the design work for this project was not different from any other projects. However, we had big problems with Instagram's spam filters, they did not seem to like that we uploaded 50 images per minute.
6. Do you have any tips for other people who want to use instagram as a tool for self-promotion?
We're no experts, but we can share our thoughts. To begin with, you should find out if your target audience uses instagram. Plan your content in advance and see the format's limitations as something positive. Use the built in functions in new ways and, of course, be creative!
Take a look att hr.fr.us on instagram here!