From Finland, through Berghs to California
Niclas Runeberg has always been a storyteller. With a background within Finnish radio and tv, last year he found himself wondering what would be the next step in his career. That's when he decided to apply for the Online program Berghs Certificate at Berghs. Today, Niclas is moving to San Francisco to begin his internship at the internationally acclaimed agency Goodby Silverstein & Partners. This is Niclas story.
Skrivet av Berghs School of Communication
Juni 30, 2016
Hello Niclas! You just landed in San Francisco where you'll be working with Goodby Silverstein & Partners, the agency behind the "Got Milk" campaign. Please share with us your story: how did you end up here?
Well, that is a question I have been asking myself lately. Everything happened very fast, as things tend to do in this industry. It was back in March after completing a course in planning within my studies at Berghs Online Certificate, that the content provider of that course and Director of Research Strategist at GS&P, Mrs Heather Barret, contacted me to discuss the outcome of our final assignment.
Being a humble Scandinavian I immediately thought there was something lacking in my work or something that needed to be added for me to complete the course. To my surprise this was purely a pep talk to encourage me to think about possibilities in bringing my skills to the next level. Heather told me she had brought my work to the attention of the company recruiters at Goodby and wanted to know what my ambitions were regarding my future. At this point I, besides feeling extremely proud of her praises, did not expect to actually be given an opportunity like this. By the time the Talent Director, Mrs Leslie Bee, contacted me a couple days later my mind was set on giving this my best shot.
In your movie where you introduced yourself to your fellow classmates from all around the world when you first started at Berghs Online Certificate, you describe yourself as very passionate about storytelling. When did this passion first appear in your life?
I think storytelling is a craft and ability that sets in very early in your life. I had the privilege to have both a mother and a grandfather who were actively encouraging me to read, invent things and express myself both verbally and artistically. At some point I realized that all of my previous positions, regardless of field, have in one way or another included some kind of storytelling. And the truth is a lot of human interaction happens through storytelling. Be it teaching, customer service, hosting or any other kind of situation where communication is important. The good storyteller will always have an edge and stick out through the nonsense that is polluting our senses.
What are you taking with you from the two semesters at Berghs Online Certificate?
I think the program has given me a good understanding of the workflow and different stages involved in a creative process. It has been a good mix of strategic and creative insights. I have to admit I was a bit weary of the format, that is exclusively collaborating online, but the end result turned out to be very dynamic and fun.
Can you share a main insight?
For me the biggest insights, ironically enough, was in the strategic parts of the program. Strategy has always seemed like the most boring and monotone part of the process, but through the engagement and amazing talent of our teachers it really opened my eyes to how interesting strategy can be.
You seem like a creative person – how was the planning and strategic parts of the program for you?
To tell you the truth I wasn't super thrilled about those parts before the program started, but that all changed the further down the road we got. Once you understand that it is possible to do storytelling through numbers and data, it all starts to become an intriguing part of the creative process.
When did it "click" for you during the program?
I think it was during the course in planning. I have always liked to set some loose boarders to a project myself if the brief doesn't offer that at the beginning of the creative process. Through careful planning those boarders become a bit more visible and it can really help the creative work and even spark your imagination once you gain that data.
One of your instructors finally ended up recommending you for an internship at GS&P, do you remember the phone call? 
It took a while for the penny to drop. I remember just sitting in my bedroom, staring at the screen of my computer after the Skype call. I have always dreamed of an opportunity to do creative work in California but somehow I couldn't imagine it would all happen this fast. I thought my journey would have taken me to an internship in Helsinki or Stockholm, then maybe London or Paris, and finally ending up in San Francisco. Now I got the chance to step into the game through the front door so to speak, and it feels amazing.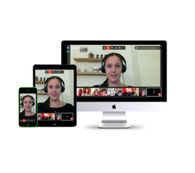 Berghs Online Certificate
Berghs Online Certificate offers you the best of Berghs' action-based learning, packed into a flexible format.
Read more and apply
What happened after that phone call? Tell us about your assignment and the process of application for the position!
The hiring at Goodby happens through a talent director. I had some calls with her and got a couple of assignments to prove my conceptual skills. She did not give me a strict deadline, but asked me to show her my work as soon as I had something. I think speed is the key in these cases and I know that coming up with great work fast is an ability that is greatly appreciated within the industry.
So I immediately took a couple of days off work and got the assignments done right away. First I was expected to make a video, no longer than 30 sec, showing an everyday object being used in a way it was not intended to. I chose to make a stop motion film building a Scandinavian sandwich-cake on my beloved record player. The other assignment was to write 10 tweets in the voice of Chester Cheetah who is the mascot of the popular snack brand Cheetos.
What did you feel when you realized you were offered the opportunity to join GS&P?
It all felt quite natural from there on. I knew I had given the application my best shot. However, I don't think I really understood the implications and the impact of actually moving to the other side of the planet and joining one of the worlds top agencies would have on my life. All the preparation for a move like this can be pretty intense at times so I really didn't think about what life here would feel like.
You've just landed in SF, what are your expectations right now?
Haha, San Francisco is quite an expensive city so right now I'm waiting for my first paycheck. No but seriously this city is an adventure all in itself. I hope to be able to work with really interesting projects and clients. Everybody has been so nice and helpful and you can really feel the positive vibes this agency has become known for.
How has your education at Berghs helped you to take the step that you're taking now?
Well, first and foremost I would not have been given this opportunity if it wasn't for Berghs. Furthermore I think your most valuable asset, besides a cool attitude, is to feel confident in what you are doing. Bergs gives you the skills and knowledge to really hit the ground running once you get dropped in this jungle. I know I will always be able to tap into my new network of excellent people I've gotten to know through Berghs, and that is a priceless asset in this field of work.